Welcome back to The Tonight Show I'm your host Chung Lao.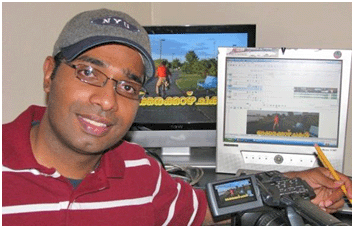 Abi Varghese. One of the directors of the hit Youtube series Akkara Kazhchakal. There is something to be said for simplicity, and I think Abi and his team keep the series simple and clear cut, and it doesn't collapse under its own weight. They focus on the core characters and run with it, which is impressive for someone just getting started. The show's going to be fun to watch as time passes.
Lastly, the time and effort that Abi and his team put into this show is equally impressive. Enjoy this one.
Posted on February 23, 2009

---
Chung Lao: Abi, thanks for being interviewed here at IndaPhatFarm.com How are you?
Abi: I am doing great. Thanks for the opportunity.
Chung Lao: Where did you grow up?
Abi: I was born in Adoor Kerala, and was brought up in Englewood NJ.
Chung Lao: When did directing become a passion in your life?
Abi: When I was 14 years old I knew that I wanted to be a film director. But it's not until the age of 18 that I started actually writing and filming things. And I did some really horrible short films that will never ever see the light of day.
Chung Lao: Where did the idea for Akkara originate from?
Abi: Ajayan & I was working on getting a script ready for a Feature length project when we stumbled on a Television idea. We went through countless ideas but the story about a family going to church stuck and from there we started building. If our first episode had a different take, we would've ended up with a totally different show.
Chung Lao: I know that you all have other jobs, how does the shooting schedule work for Akkara?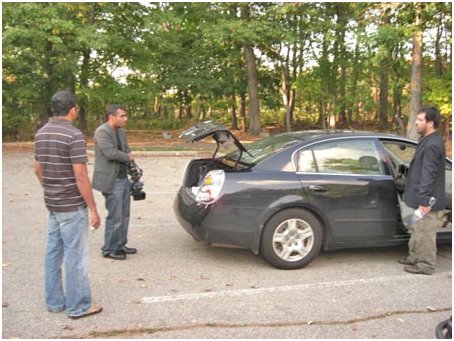 Abi: Okay, so pretty much AK consumes my life. Shooting usually happens on Saturday and it takes about 10 to 11 hours (aprox 2.5 hours of recorded material…200 Takes). We might have makeup shots that have to be done on Sunday or the weekday evenings. Monday thru Thursday evenings, I edit the 2.5 hours into a 15min watch-able and sometimes enjoyable show. Editing takes about 13 to 15 hours depending on how complexity of the shot or the proficiency of the actors J. During weekdays, I meet with Ajayan for lunch and discuss the new episode for the coming Saturday. Once we have it finalized he starts writing. In the mean time I start working out the shot list and we send out the script and call sheet. By Thursday, I would have the final edits done for the episode and have made the call sheet ready for the next week's episode. Saturday comes again and we are back to shooting and the world goes round and round.
Chung Lao: Was it hard to get the cast members involved initially in this project?
Abi: Since I was not too aware of many actors in the tri-state area, I knew that I was not going to be picky. Josukutty & Sajini were the first two actors we saw and we liked them because we didn't know anyone else quite frankly.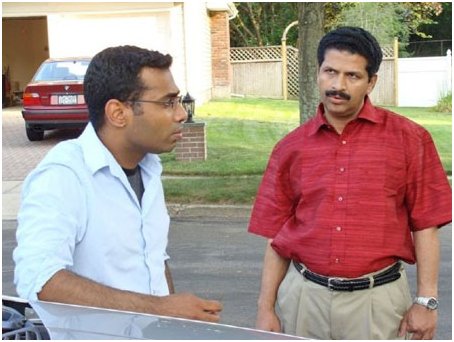 But as luck would have it, to this day I still think that this was our biggest win so far on the show. I cannot begin to fathom what the show would be like if we went with another cast. I am glad we didn't look around and settled for what came first. What we have are all incredible actors who are so dedicated and loyal to the show. Sometimes being lazy will do you good.
Chung Lao: What types of reaction/feedback have you gotten from fans of the show?
Abi: We have gotten some overwhelmingly great responses to our show. …and then some not–so-great responses when we post episodes late on youtube (which I still believe is good responses) .
Chung Lao: One of the great things about what you've created are the memorable characters, the chemistry they have, and the fact that everyone can relate to a character on the show. Whether it's George's "Homer Simpson-isms", or Appachen's big mouth. Was that intentional, or did lightning strike?
Abi: Some of them are very intentional, and others have evolved as we all put our heads together to get a deeper understanding of these characters. Everyone on the set draws from their own experiences and contributes to making the situation a little funnier or a little bit more original. What we always focused in on the set was to bring out the truth in these characters. If we told the story in a way that there is truth behind the comedy, people would be able to relate to the character.
Chung Lao: What directors do you admire?
Abi: Woody Allen. Bharathan. The Coen Brothers. Padmarajan. Quintin Tarantino. Adoor Gopalakrishnan. Jean-Pierre Jeunet. Michel Gondry. Tim Burton
Chung Lao: What are your favorite films?
Abi: Annie Hall. Amelie. Pulp Fiction. Amaram. Kadavu. Mathilukal. Ed Wood. Fargo.
Chung Lao: Will there be any blooper reels released?
Abi: Yes, as soon as I get a week off from doing regular AK episodes.
Chung Lao: Describe for us, one of the funny moments in filming Akkara.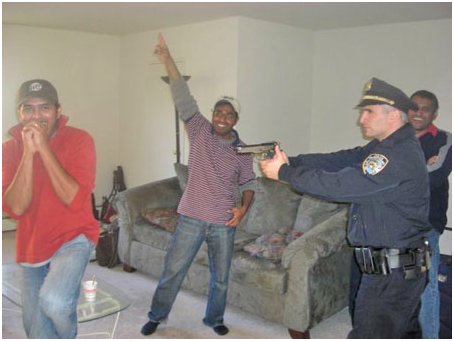 Abi: I guess the funniest moment for me was when Gregory arrived to the set for the first time. I had spoken to him over the phone a couple of time and have seen his acting skills on video, but never met him in person. When I looked at him first, I knew that we had the guy but he was too modern. His hair was combed in the form of a mushroom and was all bling-blinging. I knew I had to tone him down a bit, but where do I begin. I asked him to go get changed. 10 min later, out comes this person with his hair glued to his scalp by gel. His Banana Republic pants pulled way over his waste and his collar button all pinned up. I tried to contain my laugh realizing that we had found our guy.
Chung Lao: Where do you want to take Akkara? Also, how long do you want the series to run?
Abi: When we initially thought about the first few episodes for AK, we never thought it would take off like this. As of right now, I am not sure when we will end this. I will end the production before the spark of the show starts to deteriorate.
We all want to leave the show on a high note (or before people "booo" us out).
Chung Lao: Where can people watch future episodes of Akkara, and will they be available for purchase?
Abi: We will be setting up a link on akkara.tv to buy our DVD set once its complete.
Chung Lao: When it's all finished, what do you want the legacy of Akkara to be?
Abi: What I am most proud about AK is the fact that we have no production budget, only weekends to shoot, & only three crew members to handle camera, light, boom & script reading. Within one week we accomplish a lot and have lots of fun through the process. There is a perfect harmony with everyone in the team. AK is a beautiful world for me to live in. I will be lost when we do decide to end AK.
Chung Lao: Lastly, leave us with a parting thought.
Abi: I wanted to thank IndaPhatFarm.com for giving us this opportunity. I am also so grateful to all the AK supporters who have been there for us since episode 1. We hope to bring you some more great episodes in the future.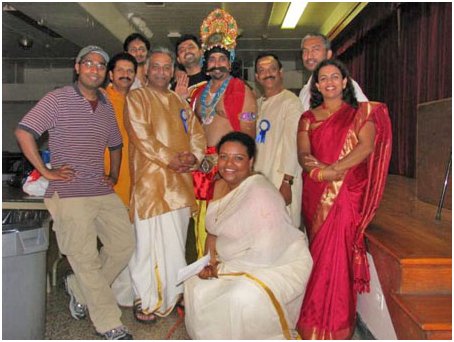 Chung Lao: Appreciate it Abi. Next up on The Tonight Show is Ajayan Venugopalan, who is the other director of Akkara
Kazhchakal. Keep it locked!
---
Back to the Tonight Show |
Back Home