Welcome to a express edition of The Tonight Show with your host Vinod.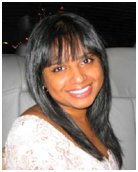 I decided to interview one of Graceís first cousin, 24 year old, Blessy Daniel from Long Island, New York. Iíve known Blessy since she was a toddler. I can describe her as being extremely outspoken, intelligent and goal oriented. Hereís a little intel on Blessy: sheís pro life, against the war and against the death penalty.

She recently graduated from college

and is a Diagnostic Case Worker with a private firm in Long Island.

This interview is called an express interview, as there are only 10 questions. Short and quick:



Posted on September 20, 2004

---
Vinod: What are your future career aspirations ?
Blessy: Counselor by day and a Dominatrix by night, just kidding!! Seriously, I ultimately would like to be a professor teaching at a university.
V's
COMMENTS:
<![if !vml]>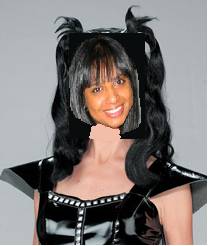 <![endif]>
Vinod:
Describe your ideal husband.
Blessy: Good head on his shoulders with a strong stress on spirituality and intellectuality. A motivator, a man with confidence, able to understand my quirks and enjoy life to the fullest. A big plus: A man who is sociable.
V's
COMMENTS: Blessy, I think you need to get in touch with Anthony Robbins,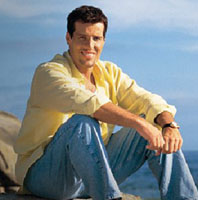 Vinod:

Describe what's so good about living in New York.

Blessy: Meeting peopleÖand always having something to do or somewhere to go.

Vinod:

What are 4 things you do in your spare time ?

Blessy: 1) Hang out with people I love and sometimes, Vinod

2) Read psychological thrillers.

3) Watch movies

4) Go on vacation !!!

Vinod:

What's the best restaurant you have eaten from and why ?

Blessy: Soul Cafť Ė I love the food and atmosphere.

Vís COMMENTS: Read a review of the restaurant:

http://www.restaurant.com/microsite.asp?rid=33843

Vinod:

What are you talented at ?

Blessy: Anything I put my mind to.

Vís COMMENTS: Blessy is being modest. She is a very talented singer. Approximately three years ago, Blessy sang with a group called NDIA (Inner-Soul Records, NYC) on the 5th track of their first album entitled, NDIA. NDIA is a Malayalee, Christian rap group. See: www.inner-soul.com

Vinod:

Who is your favorite Christian singer?

Blessy: CeCe Winans

(http://www.cecewinans.com/) and Donnie Mcclurkin (http://www.donniemcclurkin.com/)

Vinod:

What is your position on same sex marriages and why?

Blessy:

Even though I understand it is considered a sin in the world, I also feel that love is a wonderful and mystical thing and who are we to judge but God.

Vís COMMENTS: I never knew Blessy listened to Tupac and has she really answered my question ?

Vinod: What is the first thing you do after you get into a car accident ?

Blessy: Thank God Iím alive.

Vinod: You come home from a rough day at work. While pulling your car into the driveway, you notice two people on your roof. After getting out of your car, you realize the two people are your children. What would you do to get them down ?

Blessy: Hose them off the roof!!

Ví COMMENTS: To report child abuse and neglect, call the New York State Child Abuse and Maltreatment Hotline:

1-800-342-3720 Outside NY State: 1-518-474-8740 TDD: 1-800-638-5163.<![if !vml]>
<![endif]>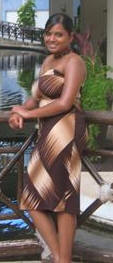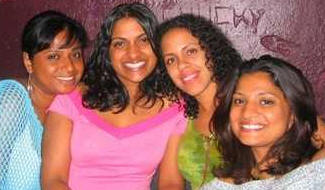 Vinod:

I know, it was short and quick. This interview was not planned and I threw the questions out at her quickly.

Chung Lao:

Thanks V & Blessy. Next up on The Tonight Show is Sophy Thomas.
---
Back to the Tonight Show | Back Home