Welcome to The Tonight Show I'm your host Chung Lao.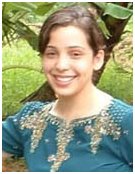 Thanks for stopping by The Tonight Show. Brenda hails from the assembly in Houston. I have found Brenda to be an extremely motivated and genuine person. She is someone that can be trusted.
Brenda is the first of IndaPhatFarm's special double interview. Make sure you check out her twin sister, Liza's interview as well.

Posted on August 25, 2003


---
Chung Lao: Hey Brenda, how are you?
Brenda: Very well, thank you.
Chung Lao: God willing, where do you see yourself in 5 years?
Brenda: I'll probably be teaching in a high school or working as a linguist for the F.B.I..
Chung Lao: What do you think of IndaPhatFarm.com?
Brenda: IndaPhatFarm is a great website. I enjoy going on there to see the new things that are posted up every few days, and see all the great pictures. I also like the fact that there is a healthy balance when sentimental issues, such as weddings and deaths,are adressed . In other words, it doesn't get too personal, but it is not too detached. That is really great.
Chung Lao: Describe some of the Mission Trips to Mexico you've been on. Do you recommend these types of mission trips to other youth? Why?
Brenda: I have taken most of the mission trips to Mexico with my parents since they go to Mexico very frequently, with the exception of one time that I went with Sis. Jill, Liza, Blessan, and Anthony, so I didn't do a whole lot of "missionary" work. What I have done more is work in the actual church, not with unsaved people. For instance, I have interpreted from English to Spanish and vice versa, sang and played the guitar in the meetings, and shared with the youth. I would encourage these kinds of mission trips to other youth, because even if you do not do a whole lot of witnessing, you learn how to work with the souls and love the work of God. However, I would not recommend these mission trips to someone who goes more as a spectator, because the people will be able to tell and feel exploited, almost as if they are some kind of tourist attraction.
Chung Lao: What is the biggest difference between you and your twin sister, Liza?
Brenda: We have several major differences, but one of the biggest differences is in the way people perceive us. People think that since I am a bit more reserved and formal with people, that I am a good judge of character and very perceptive, but in truth, Liza is more intuitive, and she can also discern more easily when people are being sarcastic and such things. I am not a blonde by any means, but I am definitely more believing and trusting
Chung Lao: Have you ever impersonated your sister? If so, tell us the story.
Brenda: I don't have any exciting stories of any escapades I made acting like Liza, but one time when we were in 6th grade, our teacher was checking our homework to make sure we had gotten it done. At that time Liza never did her homework and I always did mine, so we switched seats because she didn't want to hear the teacher scold her again. So we switched seats and when the teacher came to me, she was like, Liza, you didn't do your homework again. So I started laughing because she thought I was Liza, but I covered it up by acting that I was sobbing because I was getting in trouble. Then another teacher walked in and told the first teacher that we were tricking her. We all started laughing, but Liza still got her detention for not doing her homework.
Chung Lao: I read somewhere that twins can sometimes feel what the other twin is feeling, even when they're not in the same place. Have you ever felt this?
Brenda: No.
Chung Lao: In your view, why is it important to stay focused on our Lord Jesus Christ?
Brenda: If we do not have our focus on Jesus, we will tend to be swayed by many petty things we see in the church or in the world. Our time is so short, and therefore too valuable to waste on getting angry and offended for all the rules our church has or whatever is bothering us. Also, whenever we focus on Him, we will have no rules or law. The Bible says that whoever is guided by the spirit is not under the law, and if we keep focused on Jesus and loving him with all our heart, he will transform our minds and make us think like He does, and His love will erase or answer all our questions.
Chung Lao: Where were you when you heard the news about Blessan Samuel, and what was your initial reaction?
Brenda: I was called at home and informed of his death. I find it hard to explain how many things went through my mind in seconds when a sister called me and told me what had happened. At first I was just so shocked and was just trying to ask her how he had died, and then the first realization hit me that he was gone. I say first realization, because throughout these months I have felt more and more realizations. For instance, when I got to his house and saw all the cars parked by his house of all the church members and saw that there had been no mistake, when I went to the university and didn't find him in the college of business, and many other occasions where it has hit me again and again. But that was the first time it really hit me, and then I started to shake and cry. I also had to inform my family what had happened, so that was all going through my mind in those first seconds.
Chung Lao: I know that Blessan went out of his way to make sure you and your sister were ok. Describe some of these moments.
Brenda: Blessan did so much for my sisters and me that it is hard to pick from the many wonderful things he did, but several important instances come to mind because they were crucial to our growing up. The first person with whom I drove was with Blessan, because my mother was to scared to take me, and my father was a bit busy. He also came to my house to explain to Liza, Aylin and me everything there was to know about getting into college. In college I joined an honors society, and he came all the way from his house to my school just to go to the induction ceremony. When I transferred to the University of Houston we used to see each other almost every day and he was always watching out for me, such as the time when he brought me a jacket because I was cold, and when he brought me lunch because I forgot mine.
One time I shared a message at another church with the youth, and both Blessan and Benson came to hear the message. There were several inconveniences for them which include the fact that this was an all night meeting conducted only in Spanish. They had no clue as to what was going on, and after the meeting I thanked them for coming and showing their support, and he asked me when there was going to be another meeting because he wanted to come. I was so touched by his love, but not at all surprised because that was who Blessan was.
Chung Lao: What have you learned from his life?
Brenda: To love God and people.
Chung Lao: Name some countries you would like to visit / revisit, and why.
Brenda: I really would like to travel all over the world, but if I must cut it down to 2 or 3 places, I would love to revisit Colombia because it is the country where my parents where born and I would like to visit my family and find out a little more of my ancestors, and I would also like to visit Austria because it has beautiful mountains and it has something I've never seen before in any mentionable amount- snow.
Chung Lao: Favorite movie?
Brenda: I'm really not into movies but if anything it would have to be the movie adaptation of one of my favorite books, Pride and Prejudice.
Chung Lao: Favorite food?
Brenda: Colombian food or whatever my mom cooks.
Chung Lao: What is something you can't stand in a person?
Brenda: I really dislike when people are mean spirited and say things to willfully hurt people or joke in a mean way at the expense of another person. I also dislike deceit and manipulation.
Chung Lao: Will you vote for George W in '04? Why/Why not?
Brenda: Most definitely. My major reasons include the fact that he is a Texan, he has a great accent, but also because he is a Godly, conservative man, and he has a great staff working behind him.
Chung Lao: Can you cook? If so, what's your specialty?
Brenda: I must confess that I don't cook much, but I am a pretty good baker. My specialty is banana-nut bread.
Chung Lao: Are we living in the End Times?
Brenda: The Bible says that in the end times there will be wars and rumors of wars, pestilence, famine, and earthquakes, and these things are taking place these days. I believe one of the things that gives us a false sense of security is the fact that these things have taken place in other generations and Jesus has not returned yet. The difference with now and before is that these things are occurring with a greater frequency than before. So to answer your question, we are living in the End Times
Chung Lao: Give us a fond memory/story about your brother, Bro. Armando, (who is currently serving the Lord in the ministry).
Brenda: One time when I was like eleven years old, my brother came to the house to make a phone call, and he was accompanied by all of his neighborhood buddies. I was washing the dishes, being serious and minding my own business because they were all guys I didn't even know, when Armando told me to hurry and write a number for him that somebody was giving him on the phone. So I went to get a pen, and Armando told me, no I have a pen, just hurry and write this down. So I got the pen, and when I removed the top it made a sound like if it was a firecracker. Armando and all his buddies started laughing because they had set me up, and I was so startled and I started laughing too. But then I realized that Armando had just embarrassed me in front of all his friends and I got so mad and started hitting him. Because he was laughing so hard and I was so mad I was able to knock him down to the sofa, so all his friends took off running because they thought I was going to beat them up.
Chung Lao: You've just been granted a wish to have any one thing you want. What'll it be?
Brenda: The ability to play the guitar really well.
Chung Lao: Describe your ideal house (actual building).
Brenda: My ideal house would be very spacious to be able to accommodate everything neatly, with a lot of windows to let the sunshine in. I would like my house to be either Spanish style or Colonial style with either ceramic tile or wood floor.
Chung Lao: Now, describe your ideal home.
Brenda: A place where there is peace and love, where Christ is the head of the home, where there is lots of joy and music.
Chung Lao: List some of your favorite songs.
Brenda: Give me a clean Heart by Fred Hammond and Cara a Cara by Marcos Vidal.
Chung Lao: Have a favorite phrase, or something you say a lot?
Brenda: over yonder.
Chung Lao: What about a favorite verse or passage from the Bible?
Brenda: Psalms 19:14 - let the words of my mouth, and the meditation of my heart, be acceptable in thy sight, O Lord,my strength and my redeemer.
Chung Lao: If you could change one thing about yourself, what would it be?
Brenda: I would be more disciplined.
Chung Lao: Ok, you wake up one morning and get ready to eat breakfast. As you pour some Honey Nut Cheerios into your bowl, you notice that your siblings are curiously absent. "Where are Liza and Diana" you ask. "Who?" replies your Mom. Upon further questioning you come to find out that your siblings never existed. How do you feel?
Brenda: Absolutely horrible. Liza and Diana are my soul mates. I would probably try to wake myself up from the nightmare.
Chung Lao: Finally, leave us with a parting thought.
Brenda: This comes from Philipians 3:13-14: Brethren, I count not myself to have apprehended, but this one thing I do, forgetting those things which are behind, and reaching forth unto those things which are before, I press toward the mark for the prize of the high calling of God in Christ Jesus.
Chung Lao: Excellent interview Brenda. Appreciate it. Next up on The Tonight Show is Sona G. Stay Tuned.


---
Back to the Tonight Show | Back Home