Lastly, for some odd reason, she's also a fan of the Chicago UntouchaBULLS. :)-
Chung Lao: Liz, How are you?
Liz: Doing really well. Happy!
Chung Lao: Pick one word that describes you.
Liz: Friendly.... I love going places and meeting new people. Love hearing peoples stories.
Chung Lao: Where did you grow up?
Liz: For about 16 years I grew up in the city of Chicago. Not so great area, but not complete ghetto :-) Then we moved to a suburb right out of Chicago. City girl at heart. :-)
Chung Lao: Chicago vs Pennsylvania (where you currently live), let's hear it!
Liz: See not so fair! Lots of people who I have to see every weekend read this...j/k.
They are both great places. I do miss the city of Chicago. I got to a point where someone could ask how to get somewhere and I knew the shortcuts to get there. Then I moved here and I didn't know any thing...what's a 'jug handle' anyway! :-) But the people here are amazing. They have welcomed me with open arms.
So I may sometimes miss my peoples in Chicago (Go Cubs!), but this is my home.
Chung Lao: What do you think of IndaPhatFarm.com?
Liz: I love it!. I enjoy reading the inspirational columns. I love the pics and videos. You are doing a great job Chris!
Chung Lao: It's come to my attention that you once created your own exercise video and had some interesting results afterwards. Please elaborate for us!
Liz: Ha Ha Ha! I am going to kill who ever told you!
Alright, so here it goes. My mom would have these phases where she would work out on the treadmill for a few weeks. During one of the revivals in Chicago, a gym teacher from Ohio stayed at our house. She was describing some warm ups you should do before running. My mom asked her to demonstrate so she could record and follow along later. The sister asked me to join so she would not be doing it alone. In the middle of doing these weird knee bends, my knee popped, twisted, collapsed.
The gross part is we got it on video. It sounded like i banged into a table, but i was not near one. Of course we replayed it to get a sense of what happened, and to this day they torture me with that video. They call me into the room and play just that part. It is so gross!
Chung Lao: Name your favorites:
A. Food(s): Fish Curry, the yellow yogurt that goes on the rice, pizza, and
Jibaritos (steak sandwich on plantains).
B. Car(s): Not a huge car fan. So basically anything that drives, except for
big... older people cars. But I do love SUV's!
C. Hobbies: I like reading, volleyball, baseball, and movies.
D. Countries to visit, re-visit: Ireland- want to see those beautiful green
valley's and maybe some hobbit holes :-)
E. Sports Team: The UntouchaBulls! CUBS.
F. Book(s): The book that never loses it's power...the Bible. The
Chronicles of the Kings ( a Lynn Austin series, the best series I
have ever read.) My Utmost for His Highest Devotional.
G. Bible Passage(s): Philippians1:6. And I am certain that God, who began
the good work within you, will continue his work until it is finally finished on
the day when Christ Jesus returns.
Chung Lao: What job could you absolutely not do?
Liz: A behind a desk, never seeing anyone, kind of a job. I am a people person. I have to be able to socialize, sometime during the eight hours (preferably all eight hours).
Chung Lao: What is your take on George W? How will he be remembered?
Liz: I have to give credit to the man. He is hounded so much. If it were me I would have quit and gone into hiding. He took on a responsibility and whether we agree with all of it or not, he is taking care of business.
How will he be remembered....As the president who declared a very controversial war.
Chung Lao: What do you want people to remember most about your mother, Rosemany Flores?
Liz: She was an amazing women, wife, and mother. She had an awesome relationship with Christ. She was constantly talking to God. I can still remember all the times i would say "What?" because i heard her say something, and then realize she was praying . She really loved my Dad. You could see that her desire was to be a blessing to her husband. She loved her children. My mother sacrificed for her family. She was someone you could talk to. I always loved that about my mom. Even when we upset her, she still remained approachable. She was fun to be with.
Chung Lao: What have you learned from your father, Josue, Jonathan & Jeremy, respectively?
Liz:
My Dad - has such a real relationship with God. He has this longing to know who God is. I love that, and wish I was more like that.
Josh - is understanding. He will defend someone even if they are not exactly right. He tries to see where they are coming from. He tries to find the positive when you're dwelling on the negative.
Jonathan - Is real. He does not put on an act. He is who he is.
Jeremy - Is a good listener. He takes the time to listen and can be trusted.
Chung Lao: Name someone you admire and why?
Liz: Oh! No doubt about it, My Mother. She allowed God to use her however he pleased. She touched so many lives by doing so.
Chung Lao: Using nothing but Microsoft Paint, please draw us a picture.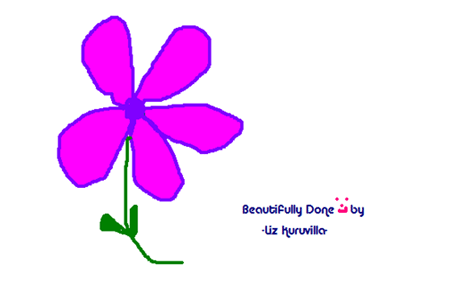 Chung Lao: Let's hear about those skills in the kitchen.
Liz: Skills...what skills?! I learn as I go. I wish I had paid attention to my mamma, but instead I played with the boys. But Dave is great, so he is teaching me a few things.
Chung Lao: What have you learned from being a wife?
Liz: Never knew something so wonderful could be so hard :-) Nah...j/k I love it. It's amazing to have a best friend for life.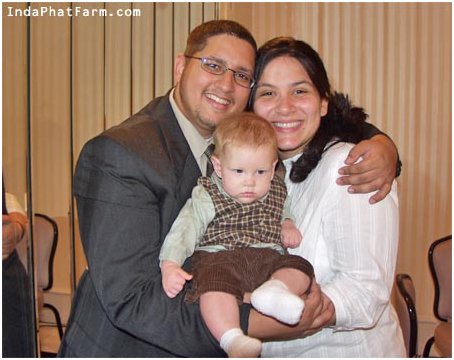 Chung Lao: What have you learned from being a parent?
Liz: Patience, patience, and more patience. Caleb is one of the coolest kids, and I'm not just saying that cause he's my baby :-), but kids are a lot of work. But lot's of fun!!
Chung Lao: What have you learned from the word What?
Liz: My husband likes to say it when he's trying to act innocent...."What! oh i didn't hear you say not to eat that cookie...oops!"
Chung Lao: What happened to the Chicago UntouchaBULLS at the 2007 BSC, and what do you expect from them in 2008?
Liz: We were short a few men. As good as my dear husband is, it just wasn't enough :-) We were missing Manny's best game (messed up ankle), Joey (he's getting married), and David H (ummm...not sure why he didn't come).
2008 belongs to the UntouchaBulls. I mean even with them missing great players they made it to the championship. So we'll be back!
Chung Lao: What is something you cannot stand in a person?
Liz: Judgement. It's just not right to try and decide how a person is without giving them a chance to show you.
Chung Lao: What is the most important thing in life?
Liz: To love the Lord with all your heart. If you do, it won't be so difficult to follow him.
Chung Lao: Describe the ideal church, even if its not realistic.
Liz: When you enter, everyone there has their hands lifted high, and every heart is worshiping God. Every tongue, every race gathered together for one reason. To give glory to the one who is worthy.
Chung Lao: Are we living in the End Times?
Liz: Yes! Bible says so, can't argue with that.
Chung Lao: Ok, you board a flight to Chicago to visit the family. You get situated in seat 21F, a window seat. As people board, you're feeling pretty good as no one is sitting in your aisle. Maybe you'll have the other seats all to yourself. At the last minute, a passenger boards, heads down the aisle and sits next to you, along with his infant son. You glance over and say "Hello" and are struck by how familiar this person looks. It's….eerie. What's even more eerie is that this person is staring at you, and tears are flowing down his cheeks.
He slowly reaches into his wallet, and hands you his passport. You look at the expiration date, and it's says January 25, 2031. Very strange.
The name on the passport is……….Caleb Kuruvilla.
What do you do?
Liz: "Before we catch up, answer me this one question...Does Kate end up with Jack or Sawyer?"
Chung Lao: Lastly, leave us with a parting thought.
Liz: In the end the only thing that is important is that you Love God and do his will. As I've learned, and I'm sure many others have, it's always better than our own.
Chung Lao:
We appreciate you're time Liz. Next up on
The Tonight Show
is
Ben Kurian. Keep it locked in.....