Welcome to The Tonight Show I'm your host Chung Lao.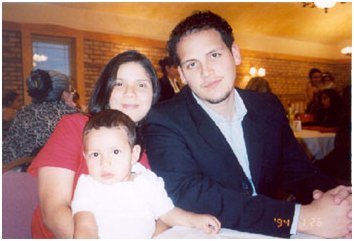 Straight from Chi-Town, home of the Bulls, I am pleased to present to you one Josue Flores. Josh is a devoted family man (father of 2) as well as a husband, musician, and an opinionated sports fan.
Josh is also the leader of the Chicago squad, which hopes to use its size and talent to dominate the upcoming Tourney. We shall see.....


Posted on April 19, 2004

---
Chung Lao: Josh, how are you? How's the family?
Josue: Everyone is doing really well by the Grace of God. Our second baby, Joel was born on Feb 1, 2004. He is doing well and Jamel is growing like a weed.
Chung Lao:
Josue, De donde viene tu nombre y como se pronuncia?
Josue: It is pronounced Ho-Swey. It is the spanish name for Joshua.
Chung Lao: What do you think of IndaPhatFarm.com?
Josue: I think it is a great place to hear how everyone is doing, and see great pictures.
Chung Lao: Name a country you would like to visit/re-visit, and why.
Josue: I would like to re-visit Costa Rica, just because there were so many things I wanted to do and never got around to. I would love to visit countries around the Mediterranean
Chung Lao: Have you changed the batteries in your smoke detectors?
Josue: LOL, I did change the batteries recently.
Chung Lao: Give us your take on the Kobe situation. Will he get locked up? Will he stay with the Lakers?
Josue: I personally dislike Hobe Bryant as a basketball player, I think he is cocky and he has been given way to much credit for three championships that were won by Shaq. Having said that, I would not wish the situation he is in on any human being and I hope he gets what he deserves. If he is innocent of rape he should be sentenced to the jail of living with a scorned wife for the rest of his life (No Parole AKA Divorce), if he is guilty he should rot in jail for 20 years.
Concerning his basketball career, I think he needs to man up and show the world that he can win without Shaq, lets see how he deals with constant double teams and zones that are focused on him. My prediction is that he will be more like Jerry Stackhouse than Michael Jordan.
<![if !supportLineBreakNewLine]>
<![endif]>
Chung Lao: Lord of the Rings or The Matrix?
Josue: Both were great trilogies. I donít think I could chose. LOTR did have a more satisfying ending.

Chung Lao: Ok, now that thatís over, what is your favorite flick?
Josue: So many, so little time, Braveheart, The Princess Bride, The Usual Suspects, Me Myself & Irene, Aladdin. I think I covered just about every genre, so I will leave it at that


Chung Lao: Define the ideal church, even if itís not realistic.
Josue: The ideal church would be just like heaven, we would be in Godís awesome presence 24/7 and we would never cease to worship him.
Chung Lao: Where is a good place to eat out in Chi-town?
Josue: AHHH Where to begin, well besides having the best pizza in the world, there is a place in the city with Puerto Rican food that will curl your toes. I canít say I have a favorite place though, I like to many different cultural cuisines.


Chung Lao: What is something you canít stand in a person?
Josue: Haughtiness, people who are condescending to other people because they think they are better than them for some reason. We were all created equal and God loves us all equally.
Chung Lao: What do you think of George W, and will he get re-elected in 2004?
Josue: I have supported Bush for the last couple of years. It is a little bit hard to understand the motive behind some of his policies but I am giving him the benefit of the doubt. For him to win, I think the economy will have to improve and the Iraq situation will need to simmer down.
Chung Lao: Favorite Actor?
Josue: Keanu Reeves ÖÖÖÖ.. Sike, I would have to say Denzel Washington, just for the simple fact that I cannot think of one movie he has been in that was bad. Out Of Time was awesome; Glory, Devil in a Blue Dress, John Q, and Bone Collector were all good movies. He even made The Siege an enjoyable movie. He sells every role he is in. I do have to give honorable mentions to Bobby DeNiro, and Al Pacino for creating such memorable characters and Kevin Spacey for making me believe there really was a K-Pax.


Chung Lao:
What do you want to teach your children, as they grow up in America?
Josue: Work hard and love your neighbor.
Chung Lao: Can you cook? If so, whatís your specialty, and is it your favorite food?
Josue: My specialty is breakfast. I can make pretty much anything you would see on a menu, and I like to make it more interesting. Other than breakfast I really donít cook much
Chung Lao: Itís a forgone conclusion, (however misguided), that you think Chicago is winning the 2004 Tourney. Explain your reasoning.
Josue: I am not going to guarantee a win, but I do feel that the most important part of a winning team is having size and talent in the paint. I am pretty sure that we have the biggest team and we may have the strongest, that is were my optimism comes from. Any of the teams could get really hot and take the whole thing.


Chung Lao: Also, DC would like to extend an invitation for a match-up in football at some point. Do you accept?
Josue: Gladly, I hope it happens some day.
Chung Lao: Were you for/against the war in Iraq? Give us your thoughts.
Josue: For, the regime needed to be taken out. I am glad that Bush had the strength to do it.
Chung Lao: How do you think your brother Jon did on the NFL Rundown?
Josue:
I think he did a great job. We donít always agree on sports but our mutual pain as Cubs fans will always keep us on the same page.
Chung Lao: Are we living in the End Times?
Josue: Yes we are, this earth cannot bear much more iniquity and perversion.


Chung Lao: Is Chicago a good place to settle down?
Josue: It sure is, Chicago is a laid back city that gives you the opportunity to enjoy all of the great things a big city can offer. We have great culture such as museums, plays, and the greatest Blues in the world. We have a great transportation system to get in and out of the city. But what I really love about Chicago is that it is a blue-collar town, we work hard, we play hard and people are genuine.

Chung Lao: Name someone you admire, and why.
Josue: I admire my parents, because of the love and affection they have for each other even after 25 years and 4 kids. I think raising kids, providing for a family, fulfilling church responsibilities and still keeping that spark alive is truly an amazing feat.


Chung Lao: In your opinion, did Keifer Sutherland make a good career move by signing up for 24?
Josue: 24 is probably still the best show on television, even though this season started a little slowly. Career? As far as I know he didnít have a career before 24, the only role I remember him in was a redneck in A Time to Kill. I think 24 (he is great in it) and the fact that he was married to Julia Roberts are his only real claims to fame.


Chung Lao: If you could instantly have power, wealth or respect (but only one of these), which one would you choose and why?
Josue: I would choose love, what good is any of those without love. My next choice would be wealth, because with wealth you can buy power and respect.

Chung Lao: Have a favorite verse or passage from the Bible?
Josue: Psalms 119:9 - Wherewithal shall a young man cleanse his way? by taking heed thereto according to thy word.


Chung Lao: Ok, ďYouíre walking down the sidewalk one day, and slip and hit your head. When you wake up, you find yourself in a warehouse in Calcutta. What do you do?Ē
Josue: First, I check to make sure none of my organs has been taken to sell on the black market. Then I look around for any clues as to why I am there. And last of all I would search for the nearest Pentecostal Mission to ask for help.

Chung Lao: Lastly, leave us with a parting thought.
Josue: Life is to short spend it worrying and stressing out about the problems coming your way. Work Hard, Play hard, Laugh Hard.
Chung Lao: Thanks Josh. Next up on The Tonight Show is Akua Pipim.
---
Back to the Tonight Show | Back Home