Welcome back to The Tonight Show I'm your host Chung Lao.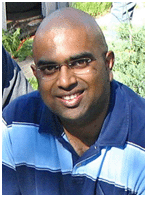 Manoj Mathew. Father. Husband. Currently residing in Edmonton, Canada. I've known Manoj for several years now and our sites have been linked up for quite some time, so I figured it was about time for us to get more insight into its creator.
Be sure to check out his family website, The Mathew Family Album.
Posted on January 22, 2007

---
Chung Lao: Manoj, how are you?
Manoj: I'm doing good Chris, how about you?
Chung Lao: Where did you grow up?
Manoj: I was born in Calgary, however my family moved, when I was 2, to a small town in Northern Alberta called Fort McMurray (where the sun shines till 11:00pm in the summer!) where we lived for 10 years Then it was14 years in Edmonton. After getting married, I moved back to Calgary for 6 years and the last 2 and half years have been back in Edmonton. In short, I've been all over Alberta.
Chung Lao: Pick one word that describes you.
Manoj: Lazy – I am the typical person who leaves things till the last second.
Chung Lao: What church do you attend?
Manoj: We searched for about a year and half before we were led to Terwillegar Community Church – a great little church plant that's 3 years old and in our neighborhood. Looking for a church was not an easy task as I am from a Pentecostal background and my wife Jenie is from a Brethren background. We prayed that the Lord would open the doors to a church where He wanted us to serve. The one thing we've come to realize is that you can be comfortable in a particular church, however the question we need to ask "Is this where the Lord wants us to serve Him?"
Chung Lao: What do you think of IndaPhatFarm.com?
Manoj: It's awesome. I first came across the site when your brother-in-law, Jaeson sent me pictures from his wedding. That was … 4 or 5 years ago? I've been keeping tabs ever since and I have to say that you and everyone else involved have been doing a great job.
Chung Lao: What is Canada's place in the world?
Manoj: North of the 49th and very cold in certain places! Seriously – our place has always been in the background, trying to accomplish goals through diplomatic means. Things will change though in terms of influence over the next few decades. Canada is set to become a huge player in the oil market as the Oil Sands here in Alberta are continuing to be explored. If you're wondering how that's possible, then I'll make a selfish pitch here and point you to my site for a write up that provides more details on that subject.
Chung Lao: It's come to my attention that you're as fanatic about you're Edmonton Oilers (hockey team) as I am about my Washington Redskins. When did this start, and from where does this fanaticism stem?
Manoj: This started back in the early '80s when the Oilers were literally re-writing the hockey record books. It's hard to describe in brief but one has to look at the teams' numbers to really understand how and why they made such an impact on hockey. On top of that when you watch them, win 5 Stanley Cup Championships in 7 years it's hard not to become a fan. Since then I've become a bit of a hockey history buff, which has helped me to understand the impact the Oilers made and its significance – which has made being a fan much more special.
Chung Lao: Tell us about those skills in the kitchen.
Manoj: I can certainly pop a mean bag of popcorn – actually my kitchen skills are more focused on anything chocolate … next time you're in town you'll have to try my 'Chocolate Hazelnut Cheesecake'.
Chung Lao: Welcome to the Canadian election report, featuring Manoj Mathew. Next federal election: Conservatives, Liberals? Or maybe the NDP?
Manoj: NDP (New Democratic Party)? I don't think our cold weather has reached hell yet. In terms of the other two parties …. I'd say the Conservatives are swaying towards forming another government in the next election. However we've had 2 consecutive minority governments, which is a big deal here and I don't think people are convinced that either party has the leader or the policies to form a majority at this stage. It's pretty much a coin toss.
Chung Lao: List your favorites:
A. Food(s):
Chocolate, Chocolate and Chocolate
B. Car(s):
Nissan Skyline (GT-R)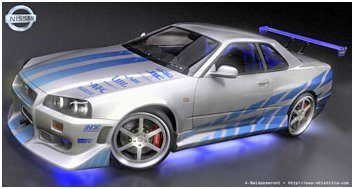 C. Hobbies:
Playing and listening to music, collecting comics, playing and watching both soccer and hockey, collecting paper currency from around the world.
D. Restaurant(s):
Moxies – I don't know if you have this one down there, but they make a wicked Steak Oscar. Dairy Queen – you can never go wrong with a Peanut Buster Parfait!
E. Countries to visit, re-visit:
visit – Turkey, Greece and Italy. Re-visit – India (Kerala) and Malaysia.
F. Character from "Transformers":
I was never into Transformers – I count myself more a Flintstones and Looney Tunes fan.
G. Bible Passage:
"I can do all things through He who gives me strength" - Philippians 4:13
Chung Lao: Would you recommend a move to Canada? What are the pros/cons?
Manoj: I'd recommend it to anyone. However be prepared to be taxed out of the wazoo! Canada is known for its social programs (read: Health Care), however someone has to pay for it. My opinion is biased on this one, but Alberta has tons of opportunities right now because of the Oil boom here, which has no end in sight – how many McDonald locations do you know pay between $15 - $20 per hour?
Chung Lao: Should Quebec be allowed to secede from Canada?
Manoj: My take has always been if they want to leave, let them, but don't expect any assistance from us. You can't split from the country and expect to receive the same benefits as before – you're either in or out.
Chung Lao: What is your occupation?
Manoj: Systems Analyst.
Chung Lao: Name someone you admire, and why.
Manoj: My little sister, Manjula, who's an example of how to live by faith. When she finished her undergrad she spent 10 years in missions' work completely trusting that God would meet her needs – which He did. Now she's settled down in New Jersey and still working for the Lord along side her husband, Stephen – they are both involved in full-time Campus Ministries at Montclair State University.
Chung Lao: What is your take on George W Bush? How will he be remembered?
Manoj: President Bush will obviously be remembered for the war on terror. My take is that he made decisions which he felt were necessary to protect his country. I have never agreed with all of those decisions; however I do respect his position and the fact that he did and continues to do what he feels is necessary.
Chung Lao: What is your take on interracial marriage?
Manoj: If it's the Will of God, 2 people - a man and a woman will be married regardless of race. The only thing that should matter is that God is at the center of the marriage. Each person should be able to say that they love God first and then their spouse – everything else will fall into place after that. (I hope that makes sense).
Chung Lao: As a fellow comic book aficionado, list some of your favorites:
Manoj: I've always been a DC person myself – (not really sure why) but Superman is right up there on my list. Some of the other characters I've followed on and off have been Green Lantern, Flash and Batman. I'm a fan of the team comics as well – Justice League of America, the old Justice Society of America and the Teen Titans from the 80's.
Chung Lao: What are some of the things you've learned by being a father?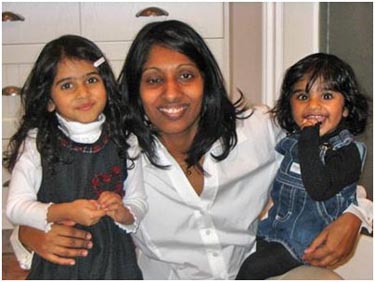 Manoj: You can't put into words the JOY your kids bring into your life. What I've learned is that I will and have done things that I never thought I would ever do in terms of caring for my girls – Mya and Yasmeen. If there's one thing that I've come to understand, it's that once you have a family you can't expect to maintain the lifestyle and routines that you once had. In some cases you may not be able to achieve the goals in life that you once aimed for. I've gained a greater respect and appreciation for those of our parents that came from India in terms of the sacrifices they made to ensure that we had everything we needed.
Chung Lao: What is something you cannot stand in a person?
Manoj: Dishonesty.
Chung Lao: Ok, you have 2 watermelons. Now divide those by the square root of fruit salad. What do you have?
Manoj: Fruit salad with extra watermelon – might there be any chocolate sauce to drizzle?
Chung Lao: Using nothing but Microsoft Paint, please draw us a picture.
Manoj: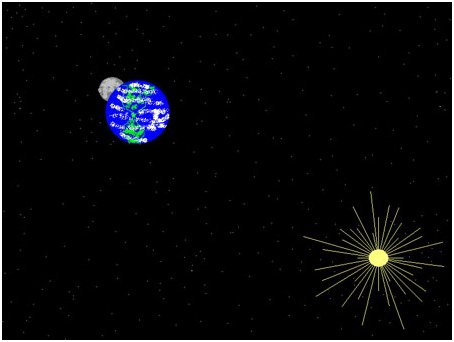 Chung Lao: What job could you absolutely not do?
Manoj: One of those high rise window washers – I'm afraid of heights.
Chung Lao: Is the glass half empty or half full?
Manoj: Half Full
Chung Lao: What would you do for a Klondike bar?
Manoj: Nothing, give me a Fudgesicle any day!
Chung Lao: Are we living in the End Times?
Manoj: I honestly don't know and I try not to focus on that. I hear this question being asked and answered many different ways; however my approach is to continue serving God the way He has instructed me to. If He comes GREAT! If He doesn't (in my life time) then I just keep serving Him to the best of my ability.
Chung Lao: What is the most important thing in life?
Manoj: Love and serve God as best as we can.
Chung Lao: Ok, it's Game 7 of the Stanley Cup Finals. It's the Edmonton Oilers against the Detroit Red Wings. It's a tight game, the score is 2-2. Suddenly one of Detroit's offensive players nails the Oiler's goalie, and he crumples to the ice in agony. He's carted off, but obviously done for the night.
Coach looks around the bench and hones in on his only remaining option to fill that spot. Manoj Mathew. "Manoj, get in there and win this thing fella" he shouts as you race on to the ice and into position.
Just 30 seconds left on the clock, you see a Detroit defender weaving and moving with lightning speed w/the puck, coming right toward you. As you fix your gaze on him, your jaw drops.
It's Wayne Gretzky in his prime, coming right at you. What do you do?
Manoj: I don't panic and try to make the save as best as I can because, even in his heyday, Gretzky really sucked on breakaways – so my chances are just as good as any other guy coming in at me.
Chung Lao: Define the ideal church, even if it's not realistic.
Manoj: For me the ideal church would be a place where everyone moves out of their comfort zone to try and connect with those that are not well connected with others - especially those who are new to the Faith. It's so easy to settle into our own groups and forget about those who are standing in a corner waiting for someone to come and say hello.
Chung Lao: Lastly, leave us with a parting thought.
Manoj: When you wake up every morning ask yourself, "What can I do for the Lord?"
Chung Lao:
Thanks Manoj, next up on
The Tonight Show
is Pasha Bains
. Keep it locked in for that one.
---
Back to the Tonight Show | Back Home