Welcome to The Tonight Show I'm your host Chung Lao.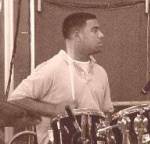 Paul M. Accomplished drummer. Skilled story teller. Great guy. Paul, your check cashed yesterday man, much lowe. Sike.

You've seen his funny clips, now let's see what's on P-MO's mind.

Posted on December 5, 2002


---
Chung Lao: Paul, how's it going man?

Paul: Not too bad man. I just finished talking to Bro.Michael Mark from the Montreal church on the phone

Chung Lao: Who would win in an impersonation contest between you and Bro. Michael Mark?

Paul: Bro. Michael Mark - Hands Down. I 'm still trying to reach his level. I remember once in our younger years he cranked called me impersonating mine own voice – this had a very negative effect on me It left me confused and bewildered for one whole week. Still to this day I'm recovering from that incident.

Chung Lao: When did you start playing the drums?

Paul: I started playing in church at about 16yrs old. I started playing pots, pans, and boxes, at about 4yrs old. However, I'm still learning.

Chung Lao: What do you think of IndaPhatFarm.com?

Paul: It's in a class by itself. It is a place where young people can come together and see how others are doing from all around the US. I love the pics especially the wedding pics (Jaeson & Christy), mission trip pics (Susan & Gifty), brother's retreat pics (Sony & bro. Mark and youth from all over). Most of all I love all those Sony Malayalam clips. (he told me he's making some new ones , so I'll be looking 4ward to that).

Chung Lao: What about its founder, Chung Lao?

Paul: I think Chung Lao is an exemplary young man who pours out his life in the Sunday School ministry. "Your labors are not in vain bro". While many will be in heaven treasure hunting. I believe you'll have lots of treasure in heaven laid up because of your sacrifice. I want that same spirit that you have of helping others. Thanks for being a fine example. 3 words – U DA MAN!!!

Chung Lao: You recently went on a trip to Panama. Tell us about it.

Paul: For the second year now I've made the trip to Panama. Like before it was wonderful. Everything from the spiritual food to the physical food was good. I traveled with a missionary team of about 30 people. I am part of the music & praise team. We go to different churches and one of the missionaries usually shares on missions. We've had the opportunity to minister at different schools and youth meetings. I thank God that He's doing a work in places as we minister. We've heard of testimonies of how some who were on the brink of suicide, they ended up coming to one of the services and had their questions were answered by the Lord and were delivered. Many have come to salvation. This is just one stories. But I would encourage anyone to go check out the mission field anywhere. If you don't feel you'll be satisfied by the spiritual food I promise you you'll be satisfied by the physical food or vice versa. It's a great experience.

Chung Lao: Take a moment and tell us a funny story.

Paul: MY FIRST NIGHT AT YOUTH CAMP-true story

I was about 12 years of age and very excited that my parents let me go to the youth camp. As I was walking to my cabin after the night meeting rejoicing in what the Lord had done in my life during the meeting thoughts of fear ran through my mind. This was to be my first night at youth camp - who knows what can happen during the night. I prayed and quickly zipped up my sleeping bag all the way around as if it were to stop a bear from chomping on me. I fell asleep. All of a sudden in the middle of the night I was awakened to a loud barrage of a sound. I quickly began repenting of my sins and tried to think of peaceful thoughts. I fell asleep again to be awakened to a louder sound. I then began to get cold shivers in my sleeping bag. Could it be a bear or some other savage beast? I quickly began to pray again. All of a sudden the same sound exploded in the air one more time. This time I felt a peace, because I realized that it was the sound of the dear brother in the bunk above me. Unfortunately, he had too many marshmallows at the campfire reflections and he probably helped himself to a little extra rice and beans at dinnertime… though I was awakened many more times that night by the disturbances I could sleep with a smile on my face.

Chung Lao: Name a country you would like to visit/re-visit, and why.

Paul: I think I would love to visit Israel because it's the land that we read so much about in the Bible and of course because it is where Jesus created so much History.

Chung Lao: What is something you cannot stand in a person?

Paul: Hypocrisy. I think we should strive to be genuine. Like Chrish from London says "keep it real, mate".

Chung Lao: Why is it that no churches want to play our church, Washington, in football?

Paul: Because we got Chung "Arrington" Lao!!! and Miguel.

Chung Lao: Which church is winning the NTC Basketball Tourney 2003?

Paul: DC'z FINEST baby!!! NOT NTC_BALTIMORE!! They keep talking trash though. Vinod, Philly, Blessan of NTC_Houston,Joshua of NTC_CHI just wait and see. We've been going out witnessing to tall guys on the ball courts ;)

Chung Lao: Name someone you admire, and why.

Paul: There are many… but I thank God for my dad he has sacrificed his life for children for over the past decades. Many have come to Christ through his ministry. I believe he's laying up treasures in heaven.

Chung Lao: What is your favorite flick?

Paul: NOT Harry Potter for sure!! While walking through Best Buy the other day I accidentally glanced at one of the televisions. Unfortunately, I saw Harry Potter. I quickly ran out of the store jumped into my car and went home. I then ran into my room and shut the door. It was hard to shake the image of him from my head until I pulled out my favorite movie "Bamboo In Winter"... just kidding. I like "Gladiator" that has got to be movie of the century.

Chung Lao: Should the U.S. invade Iraq?

Paul: I hope it doesn't come down to this; however, Iraq's leader is a threat. If he does not comply with the standards that Bush has set there might not be any other choice.

Chung Lao: Who would win in a brawl between you and Bro. Sam Fisher?

Paul: I would have to say I would. I've learned some new invisible technique moves from bro. Timothy.

Chung Lao: Who is your favorite actor?

Paul: NOT Wynona Ryder!! I would have to say Bill Clinton…just kidding. I think Mel Gibson does a good job once in a while.

Chung Lao: Give us your opinion of George W.

Paul: He is an effective leader. He may not be the best speaker. However, that has nothing to do with leadership. He has a good team around him. (Powell, Ashcroft, Rumsfeld, and Condileeza Rice).

Chung Lao: Are we living in the End Times?

Paul: Yes, time is running out.

Chung Lao: You've just been granted a wish to have any one thing you want. What'll it be?

Paul: To automatically be like Jesus. That'll be sooo tite. That means I wouldn't have to go through the struggles of prayer and fasting to become like HIM. Most of all… I could walk on water!! I could turn water into wine or water into a steak dinner then eat it.

Chung Lao: What is your favorite sport?

Paul: Carrums……naaa I would say Football.

Chung Lao: What would it take for you to go and live in India?

Paul: If they had cool weather year round.

Chung Lao: Describe the ideal church, even if it's not realistic.

Paul: I believe a church should be like a hospital. A hospital is a place where people who are sick go to get remedies for their ailments. Likewise, we who are sick with the disease called sin go to be set free. When church becomes a place only for people who are well it does not fulfill its purpose in reaching those who are dying from the disease of sin. The IDEAL church is one that reaches the lost at any cost and helps them get ready for HIS Coming.

Chung Lao: Would you be able to survive in Jurassic Park?

Paul: OF COURSE I would. I live in DC. We just survived last month's episodes of Sniper Park. …I do have to admit I was ducking at gas stations, watching my back every 2 seconds and quickly trying to speed away from white vans.

Chung Lao: If you were of age at the start World War 2, would you of joined the military?

Paul: If the military really needed me I would.

Chung Lao: Finally, leave us with some advice.

Paul: When it's all said and done. It's not how much you got paid, or how much money you made, but its how many souls u've helped get saved.

-Keep up the good work Chung Lao. U DA MAN!!

Chung Lao: Appreciate your time Paul. Next up on The Tonight Show is Glenn Thomas. Keep it locked.

---
Back to the Tonight Show | Back Home