Welcome back to The Tonight Show I'm your host Chung Lao.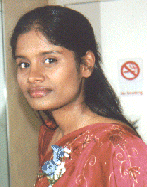 We're back at it with another great show for you tonight. With us in the studio, is Susan K (my cousin). Susu and I are about the same age so we've always been close. :) Without any further delay, lets get started.

Posted on May 29th, 2002

---
Chung Lao: Sup cuz, hows it going?

Susan: Very well cousin. Thanks for inquiring.

Chung Lao: Lets get right to the important stuff. What is your favorite pudding?

Susan: Hmmm. Tough question;) I don't really eat pudding, but I guess I would choose vanilla.

Chung Lao: What do you think of George W?

Susan: Able. An able man with determined fortitude. A "compassionate conservative". One with morals, principles, and ethics. And although he may be thought of as the fortuitous president, providence meant him to be. Thank the good Lord. And lastly, I don't hold those frequent visits to his ranch against him shoot, he has a lot on his mind.

Chung Lao: Name some countries you eventually want to visit?

Susan: Spain. Austrailia. South Africa. Brazil.

Chung Lao: What do you think of IndaPhatFarm?

Susan: One of the finest personal websites I have encountered. Actually, now that I think about, it is the finest. Now I'm not saying this because it's a family thing and you (Chris) are one of my sublime cousins, it truly is resourceful and clever. I really want to see someone outclass its unsurpassable greatness :) It has it all a profusion of pictures¦ frequent updates¦ an interesting hodgepodge of assortments such as the treasure hunts, message board, polls, news, the interviews--all assembled in a user-friendly and attractive format-what else could you ask for? I know not. Vinod, I've seen your site, you're runner up.

Chung Lao: What is your favorite food?

Susan: Hard decisionsit's a toss up between Naan with chicken curry AND Fettuccini Alfredo. What do you think Benji Chachan, some good choices..huh?

Chung Lao: When planning a trip to India, what is the most important item to stock up on?

Susan: Mosquito repellent and plenty of loose change for the destitute outstretched limbs coming at you from all directions.

Chung Lao: Who do you like more, Josh or Becky? :)

Susan: Ha! Well neither of course.

Chung Lao: What is something you cannot stand in a person?

Susan: 1. The pretentious, self diluted person who thinks they are always right.
2. Spuriousness
3. And one who talks just for the sake of bantering on and on about nothing.

Chung Lao: What is your favorite TV Show?

Susan: Friends.

Chung Lao: Who is your favorite actor/actress?

Susan: Actor: Joseph Fiennes/Jude Law
Actress: Juliette Binoche

Chung Lao: What do you think of the Miss Universe competition?

Susan: Well, although I do watch it occasionally, I do believe that the Miss Universe pageant is a futile means to exploit women. It is daft and the world would be the same place even without it.

Chung Lao: Name a person you want to see me interview.

Susan: Miss Gifty Alice John

Chung Lao: What is your favorite movie?

Susan: I have three: Shakespeare in Love, When a Man Loves A Woman, and Face Off.

Chung Lao: Do you think you'll ever be picked as a Treasure Hunt victim?

Susan: I dunno, but I hope not. After seeing the last one (Becky's), I was kinda scared.

Chung Lao: Are we living in the End Times?

Susan: I wish the answer were no; however, I'm afraid I have to say yes. Pretty heartsinking..huh?

Chung Lao: What is your favorite Bible verse?

Susan: Proverbs 31:10 Who can find a virtuous woman? For her price is far above rubies ;) oh yeeeaah. I enjoyed the "far above rubies" part.

Chung Lao: If you were selected, would you appear in a show like Survivor? Why or why not?

Susan: Most definitely. Mainly just for the experience. To be out in the Amazon or on some deserted island somewhere with just the clothes on my back and a group of unfamiliar people seems like a real adventure. However; maybe not with a show like Survivor. Perhaps something more private through an organization of some sort. Survivor seems a little fabricated. But otherwise yeah, bring it on.

Chung Lao: Do you have a favorite phrase or something you say a lot?

Susan: "Whatever." "Nah uh." "Heeeello Clarice."

Chung Lao: What are your plans for Summer 2002?

Susan: Summer internship at WSSC as editor of their newsletter. Family vacation to sunny California. Ocean City with some cronies. Dallas trip. Mexico, to help build homes. University of Maryland Equestrian Team get some riding in. Finish my quilts. July Retreat. Learn how to swim.

Chung Lao: As you know, we're making a movie called Nothing to Lose. Do you think we'll be able to beat Spider-Man at the box office?

Susan: I believe so Chris. With a little more determination and some long hours, Nothing to Lose should be done by the end of the summer. All we need are a couple more dialogue and dance scenes and some good editing and this thing will be ready for the Red Carpet. get your fringe out we're going to the Oscars! Hagi..Hagi..

Chung Lao: If you had to choose between power, fame, or riches, which one would you pick?

Susan: I hope this is not a trick question. I would choose riches. I wouldn't choose power, because there's a good chance of assassination coming into play. And fame there's just not enough privacy. With riches, I could settle back in the mountains somewhere in New Mexico-smoke my incense ride my horses and raise my kids-plus I'd have loads of money in the bank. You know what with riches I could start my own little empire (in the mountains of course)..raise a dynasty and then I'd have power and fame. I think this was a trick question???

Chung Lao: Who is someone you admire?

Susan: Well, just recently I attended a family retreat and heard a testimony from one of my cousins up in Philly-Shibu. The strength and courage he displayed, as well as the faith he had in the Lord during his time of tribulation was a real blessing to hear and very encouraging.

Chung Lao: Which team will win the NBA title this year?

Susan: To be honest I don't keep up with basketball, but for the sake of answering your question I will say the Lakers.

Chung Lao: Describe the ideal house.

Susan: Old Victorian-styled farm house. Encircling veranda. Arched doorways. Secret passageways. Fireplaces in every room including bathroom. Wood floors. Big windows. Tons of trees. Grape vines strawberry patches. Plenty of land. Barn in the back for the horses. A lighthouse for my sewing. And maybe a shed for my husband's tools or bedroom if need be.

Chung Lao: Finally, leave us with some uplifting advice.

Susan: Live for the moment. and last but not least...steeeeeaamrolleeeeer (inside joke). Finis.

Chung Lao: Thanks for stopping by Susu. Next up on the Tonight Show is none other than the one, the only, William Jefferson Clinton. :) Stay Tuned...
---
Back to the Tonight Show | Back Home