Index / Tourney Recaps | Official Information | Rosters | Directions | Contact August 25-26 Schedule of Events | Rules/Regulations | Forms | BSC Sponsorship
---
Every team played a total of 5 regular season games at the 2006 BSC. For the first time in the history of this tourney, we had Toronto in the mix. The 6 teams with the best records advanced to the playoffs. Scroll down for a more complete recap.

Regular Season Games:

F

riday, August 25, 2006

Game(s) 1:


A. Toronto 28 Gburg 3 B. Brooklyn 24

S.Island 25 (OT)

Game(s) 2:
A. Texas 7 DC 26 B. Chicago 22 Philly 20

Game(s) 3:
A. Chicago 11 Toronto 8 B. DC 12 Strong Island 19

Game(s) 4:
A. Brooklyn 13 Texas 20 B. Gburg 13 Philly 43

Game(s) 5:
A. Strong Island 28 Gburg 11 B. Brooklyn 14 Chicago 26

Game(s) 6:
A. DC 23 Philly 27 B. Toronto 19 Texas 18 (2-OT)

Regular Season Games:

Saturday, August 26, 2006

Game(s) 7:
A. DC 45 Brooklyn 26 B. Strong Island 15 Philly 33

Game(s) 8:
A. Philly 21 Toronto 13 B. Chicago W Texas (FORFEIT)

Game(s) 9:
A. Gburg 6 Texas 34 B. S.Island 20 Toronto 16

Game(s) 10:
A. Chicago 24 DC 23 B. Brooklyn 36 Gburg 18

Regular Season Standings (Final)

(1) Chicago: 5-0

***


(2) Philly

: 4-1 ***
(3) Strong Island: 4-1 ***
(4) DC: 2-3 ***


(5) Toronto

: 2-3 ***
(6) Texas: 2-3 ***
Brooklyn: 1-4 e
Gburg: 0-5 e

*** - Advanced to playoffs
e - Eliminated from contention.

Playoffs - 1st Round

Saturday, August 26, 2006

Game 1: (3) vs (6)

Game 2: (4) vs (5)
A. S.Island 33 Texas 24 (OT) A.

DC

43 Toronto 29

Game 3: (1) vs (3)
A.

Chicago 42 S.Island 33

Game 4: (2) vs (4)
A. DC 29 Philly 28 (OT)

Championship Game

A.

Chicago 32 DC 28

The 2006 BSC Champions: Chicago UntouchaBULLS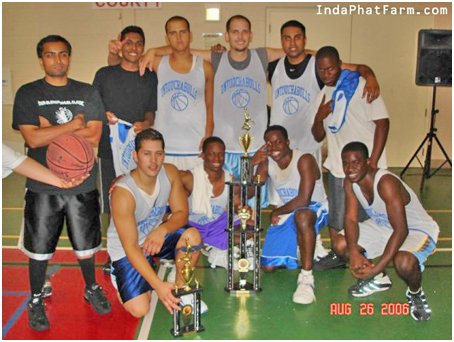 ---
Monday, August 28, 2006 - Chung Lao
Official 2006 BSC Recap
A. Well the 4th annual BSC is in the books. The Chicago UntouchaBULLS played with determination and resolve and have now matched Philly with 2 TITLES.
Overall I think the tourney went well, we had our most exciting playoff game to date in Philly-DC. If you weren't there....that's right....you missed it. Classic.
Shout outs: I want to take this time to shout out the following people. Without their help, this event could not have happened. Lovin Mathew, Leeva Mathew, Bensen Oommen, Jessu Abraham, Danny Lopez, Julie Mathew, Steven Thomas, Stanley John, Fred Moses, Crystal George, Ricardo Avendano, and to anyone I missed, many thanks for your support.
2006 BSC Tournament MVP: Joseph Maldonado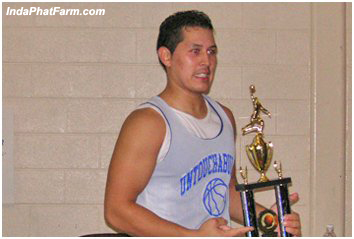 2006 BSC Joe Rosado 3-Point Champion: Tyson Titus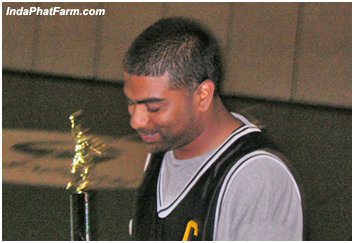 Official 2006 BSC Final Power Rankings:
Every year, the power rankings change. Here you have it for 2006.
Chicago: If you don't know, now you know. This team has now become the official team to beat. This appears to be a dynasty in the making. The Tourney MVP Joey Maldonado played lights out. Solid play as always from Josue Flores and the Hamgeri bros. Biggest stat: Undefeated in 2006. Will they make it 3 in a row?
1

DC: This squad had its best playoff run in team history. I think a lot of people wrote them off after scraping into the playoffs with a 2-3 record. Still, they beat Toronto in the first round, and then played what I can only describe as the best, most intense game in the 4 year history of the BSC. An overtime thriller, which they won 29-28, to propel them to their 2nd Final appearance. They were a tired team by then, and only lost to the champs by 4 pts. 2007. Big things.
2

Philly: The Philly Ballaz continue to be a playoff team that plays hard till the last second. Philly was the #2 seed in this year's tourney and a rematch of last year's final seemed pretty likely. Then the Philly-DC game happened. The intensity level in this game seemed greater than in all the previous games over the 2 days. Philly lost the game, but I see this as a true motivating factor for them in 2007.
3

Strong Island: The Stunnaz restored respectability to Long Island. There were many teams that looked past this squad in '06, and rightfully so after the past 2 years. But S.Island re-joined the contenders list with a 5-2 overall record, defeating DC in the regular season, and defeating Texas in the first round of the Playoffs.
4

Toronto: Shout out to Toronto for coming out this year. They brought a full squad and finished with a 2-4 record. Probably their biggest highlight was their 19-18 overtime win over Texas. This team made the playoffs in its first year. Nothing to hang your head over. We look forward to seeing you guys next year!
5

Texas: This team went through a lot to get to the 2006 BSC. Many players from '05 couldn't make it, but they still sucked it up and came out. Means a lot. Even though this team finished with a 2-4 record, they made it into the playoffs, and played their highlight game against Strong Island in the playoffs. They managed to take it into overtime before falling to the Stunnaz, but they should be commended for doing as much as they did considering their roster.
6

Brooklyn: Like Texas, Brooklyn was without 2 of their best players this year. But they didn't make excuses, they still came out and fought hard. Their team highlight was their 36-18 win over Gburg. Look forward to seeing you guys next year!
7

Gburg: Ay yi yi....well this team.....came out. No, but this is my team, I'll ride this till the wheels fall off. They were pretty much handled by every team they played. Shout out to team leader Arun for atleast giving the team a boost and creating a scoring option, but without a big man, the team was hopelessly out-rebounded spelling its doom. But it's all good. GBURG IN 2007!!!
8

2007 BSC - First look: The 2007 BSC is a very interesting prospect. Chicago will be back, and possibly with Big Dave. You know Philly and DC will be in the mix. Texas, however will be in the championship game, in my opinion. Think about it. Add Benson Samuel & Kevin/Jason Flores to a roster that made the playoffs without them, AND gave S.Island a run for their money. Should be interesting.
In conclusion ladies and gents, it's our intention, God Willing, to continue these tournaments in the years to come. Thanks for supporting us in 2006.
---
Tourney Index | Back Home