Index / Tourney Recaps | Official Information | Rosters | Directions | Contact
Aug. 29-30 Schedule of Events | Rules/Regulations | Forms
---
Every team played a total of 5 regular season games at the 2008 BSC. The 6 teams with the best records advanced to the playoffs.

Scroll down for a more complete recap. The teams shaded in orange are the winning teams. "Thanks". "You're Welcome".

F

riday, August 29, 2008

Regular Season Games:

Game(s) 1:


A. Chicago 18 DC 34 B. Gburg 23 Strong Island 18

Game(s) 2:
A. Brooklyn 22 Strong Island 28 B. Texas 40 Newark 22

Game(s) 3:
A. DC 48 Newark 14 B. Texas 33 Philly 40

Game(s) 4:
A. Gburg 17 Brooklyn 16 B. Philly 21 Chicago 23

Game(s) 5:
A. Chicago 30 Strong Island 12 B. Texas 11 Brooklyn 27

Game(s) 6:
A. DC 30 Philly 18 B. Gburg 27 Newark 18

Game(s) 7:
A. Texas 18 Chicago 44 B. DC 19 Gburg 21

Game(s) 8:
A. Brooklyn 35 Philly 27 B. Strong Island 60 Newark 25

Saturday, August 30, 2008

Regular Season Games:

Game(s) 9:
A. Chicago 47 Newark 16 B. DC 41 Brooklyn 24

Game(s) 10:
A. Philly 35 Gburg 26 B. Strong Island 46 Texas 12

Regular Season Standings (Final)

(1) DC: 4-1 ***


(2) Chicago: 4-1 ***
(3) Gburg: 4-1 ***
(4) Strong Island: 3-2 ***
(5) Brooklyn: 2-3 ***


(6) Philly

: 2-3 ***
(7) Texas: 1-4 e
(8)

Newark

0-5 e

*** - Advanced to playoffs
e - Eliminated from contention.

Saturday, August 30, 2008

Playoffs - 1st Round

Game 1: (3) vs (6)

Game 2: (4) vs (5)
A.

Philly

51 Gburg 33 B. Brooklyn 38 Strong Island 37 (OT)

Playoffs - 2nd Round

Game 3: (1) vs (4)
A.

DC

20 Brooklyn 18

Game 4: (2) vs (6)
A. Chicago 38 Philly 27

Championship Game

A.

Chicago 38 DC 33

The 2008 BSC Champions: Chicago UntouchaBULLS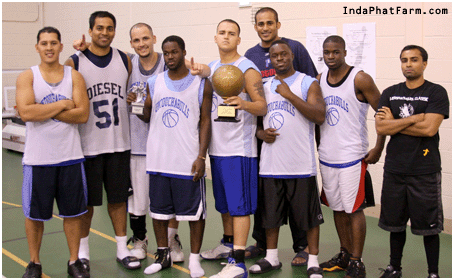 ---
Friday, September 5, 2008 - Chung Lao: REVISED 11:20 AM

Full BSC Tournament Recap

- Congrats to the 2008 BSC Champion Chicago UntouchaBULLS, Pics On the Way!

A. The 6th annual BSC is in the books. The Chicago UntouchaBULLS captured their 3rd title, cementing their status as the

second

BSC dynasty matching Philly's 3 titles. DC put up a valiant fight against Chi-town, but ultimately fell short.

Overall I think the tournament went well. We improved in a few areas, and as always we'll improve even more for 2009. Much love to all the fans that came out to support us this year!

Best Game of 2008: This is very difficult, I think it's a toss up between Gburg-DC in the regular season, Strong Island - Brooklyn in the playoffs, DC-Brooklyn in the playoffs and Chicago-DC in the championship.

**Lots of pictures are coming in. Should have them up by Monday. Keep it locked.

Shout outs: I want to take this time to shout out the following people. Without their help, this event could not have happened. Crystal George, Binu Varughese, Vinod Varghese, Stanley John, Sam John, Sijin Samuel & all the team members that helped us man the scoring tables. To anyone I missed, many thanks for your support.

2008 BSC Tournament MVP: Joe Hamgeri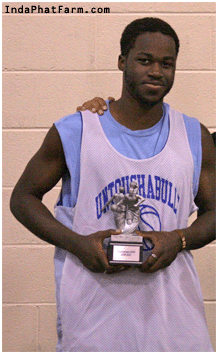 2008 BSC Joe Rosado 3-Pt Champion: Justin Thomas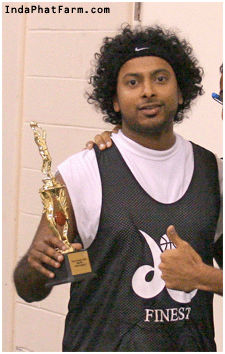 2008 BSC Fan Challenge Winner: Barry Burnett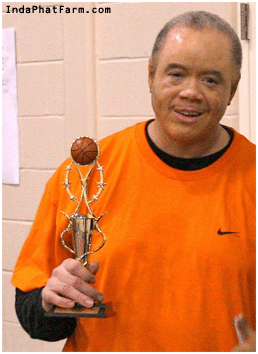 2008 BSC All-Stars: Ify Nwoko, Jason Burnett, Vincent Ventolora, David Kurikesu, Rocky Singh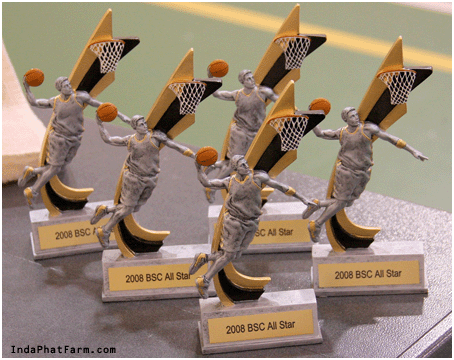 ---------------------------------------------------------------------
Final
2008 BSC Power Rankings
Chicago: After losing their first game to DC, Chicago never lost another. Through clutch play from Josue and the eventual BSC MVP Joe Hamgeri, Chicago won a close game with DC to capture their 3rd title, and establish themselves as the second dynasty in BSC history by matching Philly's 3 titles. The road to the next BSC Championship now goes through the windy city. Congrats!
1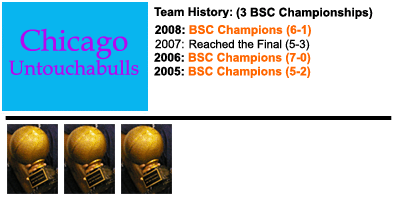 DC: A hair's breath away. DC was this close to taking it. This team was able to get the #1 seed for the first time in its history. A few made shots in the last 3 minutes of championship and we'd be talking about DC's first title. That's how close it was. This was a bruising, fast, efficient DC team for the most part, losing only to Gburg in the regular season. Jason & Jerry Thomas played well, as did Aba Udofa. After winning a tight game against Brooklyn, DC fell to Chicago. I expect a renewed fire in 2009 from this team that is really right there.
2

Brooklyn: One word. WOW. After playing some close games and going 2-3 in the regular season, Brooklyn managed to beat Strong Island in overtime and took DC to the limit in the second round, only losing by two points. The award for the most improved team goes to them. This team fielded 2 All-Stars, Jason Burnett and Vincent Ventolora. Brooklyn better be on people's radar in 2009 or your in for some trouble.
3

Philly: Well the defending champs were in a precarious situation for a while there. They limped to a 2-3 record to close out the regular season, beat Gburg in the 1st round of the playoffs before falling to Chicago in the 2nd round. A lot of teams have seen this year's performance as the nail in the Ballazz's coffin. I'm not ready to count them out just yet...
4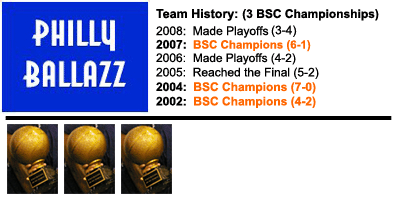 Gburg: If you look at the rankings for the past 3 years, Gburg has consistently risen up the chart every year. Just look at their record over the last 3 years. You could make the argument that the game of the year in 2008 was on Friday, when Gburg defeated DC amongst the chants of everyone present "GBURG, GBURG!!" Very exciting game to watch. Gburg went undefeated on Friday before losing to Philly in their final regular season game, and ultimately to Philly again in the 1st round of the playoffs. Still, this was a very good year all around for Gburg. I expect a lot more from them in 2009.
5

Strong Island

: Strong Island had a good showing at the BSC, going 3-2 in the regular season. Strong Island also set a new BSC scoring record of 60pts against rival Newark. The new additions from Yonkers including Terrill George really helped this team in some tight games. Even though this team lost an overtime thriller to Brooklyn, with the addition of Belt Parkway in 2009, I see them making some noise.

6

Texas: This was a tough year for Texas, they came undermanned, and after a win against Newark, it was a tough road to hoe. Their best player, George Jolly, went down early with an injury and it was a struggle. Still, major shout out to team captain Roy for coming out this year. When they come back full strength next year, this team will shoot to the upper echelon of the rankings.
7

Newark: Major, major shout out to Newark, and team captain Jensen for bringing BRICK CITY back to the BSC after a 2 year absence. Even though they didn't fare well in the standings, it's our hope they had a good time. We look forward to seeing you guys next year!!
8
2009 BSC - First look: It's only going to get more competitive. Every team is going to come back re-armed and re-loaded. Should be some great match-ups. We look forward to seeing all of you there!!
---
Tourney Index | Back Home