Index / Tourney Recaps | Official Information | Rosters | Directions | Contact
Aug. 27-28 Schedule of Events | Rules/Regulations | Forms
---
Every team played a total of 6 regular season games at the 2010 BSC. The 6 teams with the best records advanced to the playoffs.

Scroll down for a more complete recap. The teams shaded in orange are the winning teams. "Thanks". "You're Welcome".

F

riday, August 27, 2010

Regular Season Games:

Game(s) 1:


A. Brooklyn 25 DC 40 B. Newark 33 Gburg 31 (2-OT)

Game(s) 2:
A. Philly 38 Gburg 30 B. Texas 35 Yonkers 23

Game(s) 3:
A. Texas 18 Brooklyn 27 B. Newark 13 DC 69***

Game(s) 4:
A. DC 23 Philly 13 B. Brooklyn 30 Yonkers 19

Game(s) 5:
A. Yonkers 25 Newark 24 B. Texas 21 Philly 25

Game(s) 6:
A. Brooklyn 42 Newark 27 B. Texas 13 Gburg 18

Game(s) 7:
A. Philly 38 Yonkers 34 B. Gburg 31 Brooklyn 36

Game(s) 8:
A. Texas 32 DC 34 B. Philly 26 Newark 24

Game(s) 9:
A. Gburg 27 Yonkers 17

*** = New BSC Scoring Record

Saturday, August 28, 2010

Regular Season Games:

Game(s) 9:
A. DC 34 Yonkers 24

Game(s) 10:
A. DC 31 Gburg 16

Game(s) 11:
A. Brooklyn 30 Philly 26 B. Newark 22 Texas 29

Regular Season Standings (Final)

(1) DC: 6-0 ***


(2) Brooklyn: 5-1


(3) Philly

: 4-2 ***
(4) Gburg: 2-4 ***
(5) Texas: 2-4 ***
(6) Yonkers: 1-5 ***
(7)

Newark

1-5 e

*** - Advanced to playoffs
e - Eliminated from contention.

Saturday, August 28, 2010

Playoffs - 1st Round

Game 1: (3) vs (6)

Game 2: (4) vs (5)
A. Philly 41 Yonkers 35 B. Gburg 16 Texas 30

Playoffs - 2nd Round

Game 3: (1) vs (5)
A.

DC 39 Texas 29

Game 4: (2) vs (3)
A. Brooklyn 31 Philly 33

Championship Game
A. DC 34 Philly 32

The 2010 BSC Champions: DCZ Finest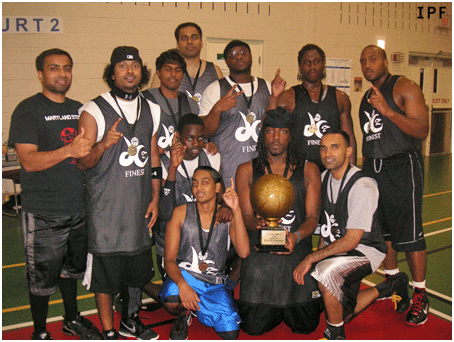 ---
Mond
ay, September 6, 2010 - Chung Lao
Full BSC Tournament Recap
- Congrats to 2-time 2010 BSC Champion DCZ FINEST, Pics On the Way!
A. The 8th annual BSC is in the books. DCZ finest proved that they weren't a one hit wonder by capturing their second straight title. They have their sights set on the most # of championships, with Philly/Chicago still having the leg up there.
"Big Game" aka Jarvis Thomas, earned MVP honors. Justin Thomas also played well, winning an all-star award as well as the 3-pt contest. Big Baby aka David Kadiri stepped up in 2010, and the team got important contributions from Aba Udofa, and Sam John.
GAME OF THE YEAR: There are several candidates this year, but I think the moment of the entire tournament was when Joshie Thomas won the Fan Challenge. I have never heard the fans go that wild before. You really had to be there.
**Lots of pictures are coming in. Keep it locked.
Shout outs: I want to take this time to shout out the following people. Without their help, this event could not have happened. Jenet Poopalan, Crystal George, Charles Thomas, Calvin Thomas, Josiah Harris, Binu Varughese, Vinod Varghese, Stanley John, & all the team members that helped us man the scoring tables. Also shout out to Susan & Greg Smith of Good Elephant Photography for taking pics! To anyone I missed, many thanks for your support.
2010 BSC Tournament MVP: Jarvis Thomas

2010
BSC Joe Rosado 3-Pt Champion: Justin Thomas

2010 BSC Fan Challenge Winner: Joshie Thomas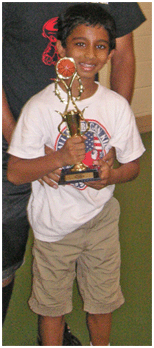 2010 BSC All-Stars: Justin Thomas (DC), Prajin Joseph (Newark), Vincent Ventolora (Brooklyn), David Kurikesu (Texas), Ricky Roy (Philly)
---------------------------------------------------------------------
Final
2010 BSC Power Rankings
DC: Definitely deserving. I would make the case that without Big Baby, this team may not have repeated. They needed his length against both Texas & Philly in the playoffs when their backs were against the wall. Two-time champions. In order to take their place alongside Philly/Chicago they'll need to win one more. However rumor has it they are looking for four +. Well done.
All Star:
Justin Thomas

BSC MVP:
Jarvis "Big Game" Thomas
3-Point Champion:
Justin Thomas
1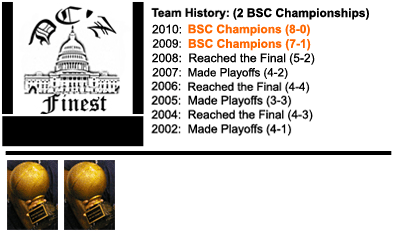 Philly: Once again, never, ever, underestimate this team. By Philly's standards they had a rough regular season, compiling a 4-2 record, and getting pushed to the brink by both Yonkers and Newark. Philly doesn't have a superstar player, but they have the best team-work of any team in the tournament. Teams that aren't heavy-laden in talent need look no further than this years runner-ups, the Philly Ballazz.
All Star: Ricky Roy
2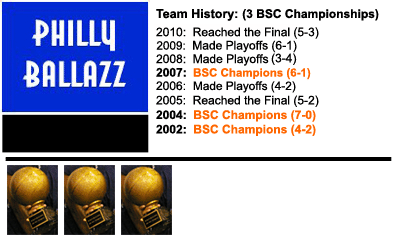 Brooklyn

: Brooklyn had its best regular season ever, compiling a 5-1 record and capturing the 2nd seed. After the opening loss to DC, they regained their poise and hammered out wins against the rest of the BSC. This team is perennially on the cusp, and I look for them to take the next step in 2011.

All Star: Vincent Ventolora

3

Texas: Had an off year to be sure. Compiling only a 2-4 record in the regular season. Teams went right after this team. Tough losses to DC/Gburg didn't help. Still, strong play from Big Dace Kurikesu propelling them into the playoffs where they almost pulled off the stunner of the 2010 BSC by almost, almost beating DC.
All-Star: David Kurikesu
4

Gburg: Gburg had a very average year. They did improve their win total, but were inconsistent at best, showing flashes against Yonkers and Texas, but losing in double OT to Newark set a bad tone for the rest of the games. To be fair, they did make the playoffs, but to move into the elite teams category, they have a long, long way to go.
5

Yonkers: A very young, very scrappy team that gave several teams a run for their money, and even made the playoffs in their return after a 5 year absence. Led by floor general Justin George, this was a team that almost beat Philly in the regular season. Solid return, and a lot of good things to look forward to in 2011.

6

Newark

: Finally got their first win in 5 years. No small thing, as it was a double OT win against the team that's becoming their arch rival, Gburg. Prajin was solid as always, and their team captain, Jacob Ronnie George had an improved year. Playoffs are within reach for this team. Had it not been for a 24-25 loss to Yonkers this year, this team would have been the #6 seed. Keep it up fellas, BIG THINGS in 2011!

All Star: Prajin Joseph

7

2011 BSC - First look: Chicago, Chicago, Chicago, where are you guys? Don't look now, but DC has almost matched your championship totals. Also, we hope to get Toronto, and possibly Florida in the mix. Should be exciting. Keep it locked!
---
Tourney Index | Back Home