Index / Tourney Recaps | Official Information |

Rosters

| Directions
Aug. 26-27 Schedule of Events

| Rules/Regulations
---
Every team played a total of 5 regular season games at the 2011 BSC. The 6 teams with the best records advanced to the playoffs.

Scroll down for a more complete recap. The teams shaded in orange are the winning teams. "Thanks". "You're Welcome".

F

riday, August 26, 2011

Regular Season Games:

Game(s) 1:


A. Texas 25 Gburg 27

(OT)

Game(s) 2:
A. Philly 27 DC 35

Game(s) 3:
A. Yonkers 33 Brooklyn 45

Game(s) 4:
A. Chicago 23 Philly 29

Game(s) 5:
A. Gburg 27 Newark 18

Game(s) 6:
A. Brooklyn 38 DC 40

Game(s) 7:
A. DC 34 Yonkers 24 B. Toronto 13 Texas 20

Game(s) 8:
A. Texas 41 Newark 15 B. Chicago 56 Brooklyn 34

Game(s) 9:
A. Gburg 30 Yonkers 37 B. Chicago 33 DC 26

Game(s) 10:
A. Texas 27 Philly 33 B. Yonkers 31 Newark 23

Game(s) 11:
A. Chicago W Newark (F) B. DC 23 Toronto 19

Game(s) 12:
A. Toronto W Brooklyn (F) B. Philly 40 Gburg 25

F = Game Forfeited

Saturday, August 27, 2011

Regular Season Games:

Game(s) 13:
A. Toronto 20 Yonkers 18

Game(s) 14:
A. Philly W Brooklyn (F)

Game(s) 15:
A. Chicago ## Texas ##

Game(s) 16:
A. Toronto W Newark (F)

Game(s) 17:
A. DC ## Gburg ##

Regular Season Standings (Final)

(1) DC: 5-1 ***




(2) Chicago: 4-1

***


(3) Philly

: 4-1

***


(4) Toronto: 3-2

***


(5) Yonkers: 2-3

***


(6) Gburg: 2-3

***


(7)

Texas

2-3

e


(8)

Brooklyn

1-4

e
(9) Newark 0-5 e


*** - Advanced to playoffs
e - Eliminated from contention.

Saturday, August 27, 2011

Playoffs - 1st Round

Game 1: (4) vs (5)


A. Toronto 27 Yonkers 23

Game 1: (3) vs (6)
A. Philly 34 Gburg 25

Playoffs - 2nd Round

Game 3: (1) vs (4)
A.

DC 33 Toronto 25

Game 4: (2) vs (3)
A. Chicago ## Philly ##

Championship Game
A. DC 49 Chicago 34
---
Friday, September 16, 2011 - Chung Lao
Official RECAP to the 2011 Blessan Samuel Classic!
The 2011 BSC Champions: DCZ Finest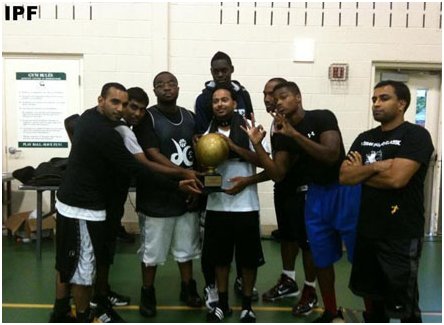 ---
Full BSC Tournament Recap
- Congrats to 3-time 2011 BSC Champion DCZ FINEST
-

FIRST TEAM TO 3-PEAT!
A. The 9th Blessan Samuel Classic is in the books! Special congratulations to the now 3-time champion DCZ Finest, a team that did something no other team in the tournament's history has been able to do, win 3 in a row! Truly epic performance by Big Baby aka David Kadiri who was also the Tourney MVP this year.
GAME OF THE YEAR: There are several candidates this year, but I'm going to go with Game 1 of the tournament a 27-25 OT win by Gburg to kick off the BSC on a high note!
Shout outs: I want to take this time to shout out the following people. Without their help, this event could not have happened. Jenet Poopalan, Joy Poopalan, Crystal George, Charles Thomas, Calvin Thomas, Josiah Harris, Binu Varughese, Vinod Varghese, Andrew Samkutty, Michael George, Melvin George. To anyone I missed, many thanks for your support.
2011 BSC Tournament MVP: David Kadiri "Big Baby"

2011 BSC Joe Rosado 3-Pt Champion: Vincent Ventolora

2011 BSC Fan Challenge Winner: Ruen Robragado

2011 BSC All-Stars: Terrill George (Yonkers), Jordan Burnett (Brooklyn), David Kadiri (DC), Shannon Jacob (Toronto), Ricky Roy (Philly)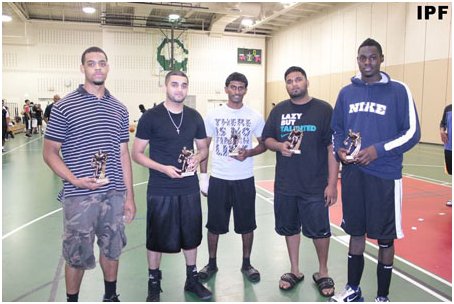 ---------------------------------------------------------------------
Final 2011 BSC Power Rankings
DC: The first team in tournament history to win three straight titles, enough said. If they can win four in a row, that feat may never be duplicated. Dynasty Status. Strong performances from David Kadiri, Alvin Rathinam, Aba Udofa, Justin Thomas, Marqus Young and Sam John. Game Highlight: Winning a 3rd straight championship.
All Star:
David Kadiri aka Big Baby
BSC MVP:

David Kadiri aka Big Baby
1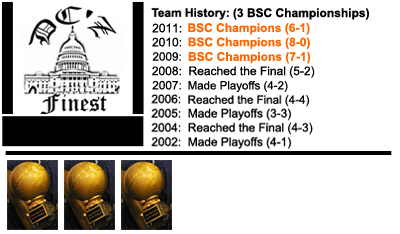 Chicago: Chicago cemented their contender status by again atleast reaching the final in every year they've attended. No other team can boast the same stat. An injury to Manny Hamgeri hindered their ability to win a fourth title, however rumor has it another Hamgeri may return to the Chicago arsenal in 2012. Game Highlight: Beating DC in the regular season.
2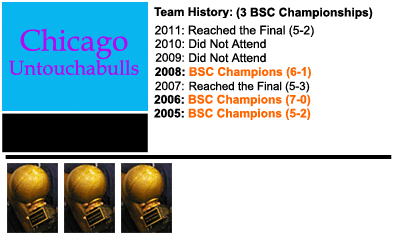 Philly: Again, this team can never be underestimated. It seems like every year they are in the final four. Great performances by Ricky Roy. Game Highlight: Beating Chicago in the regular season.
All Star: Ricky Roy
3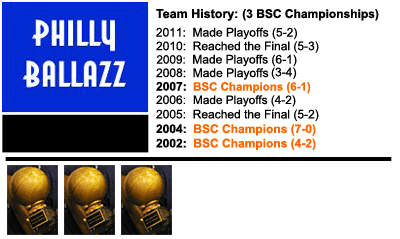 Toronto: What a RETURN! This team rocketed up the final rankings in their return after a three year absence. Great performances by Shannon Jacob and Shane Thuraisingham. Game Highlight: Both games against DC, they came very close to winning both games. I was most impressed with this team.
All-Star: Shannon Jacob
4

Yonkers: Solid performances this year by Justin George and Terrill George. This team has made the playoffs two straight years since returning. With the return of James George next year, I expect big things! Game Highlight: 37-30 win over Gburg.
All-Star: Terrill George
5

Gburg: This team managed to make the playoffs for the fifth straight year, but they lack true cohesion and explosiveness. They need to take the next step and win a playoff game. Game Highlight: 27-25 OT win over Texas to kick off the tournament.
6

Texas: Had a rough year, lost some close games, solid performances by George Jolly. This team needs better cohesion. Game Highlight: 41-15 victory over Newark.
7

Brooklyn: While having both an all star and three-point champion on this team, Irene derailed this team toward the end of the day Saturday with most players having to head back home. Still, they almost beat DC and would have done some damage had they stayed. Game Highlight: 45-33 win over Yonkers.
3-Point Champion: Vincent Ventolora
All Star: Jordan Burnett
8

Newark: This team was in games but really missed out on not having team captains Jacob George and Jensen Thomas present. Game Highlight: Gave Yonkers a run.
9

2012 BSC - First look: The 10 year anniversary of the Blessan Samuel Classic approaches. We're working on making it a special event and hope to see all the teams returning. Strong Island? How about being our 10th team for the 10 year anniversary. Keep it locked!
---
Tourney Index | Back Home