Index / Tourney Recaps | Official Information | Rosters | Directions
Aug 12-13 Schedule of Events |
Rules/Regulations
---
Every team played a total of 5 regular season games at the 2016 BSC with the exception of Toronto, which played 6 games. The top 6 teams with the best records advanced to the playoffs.

Scroll down for a more complete recap. The teams shaded in orange are the winning teams.

F

riday, August 12, 2016

Regular Season Games:

Game(s) 1:


A.

Brooklyn

20

Toronto

39

Game(s) 2:
A. Baltimore 36 Strong Island 22 B. Philly 26 Lanham 19

Game(s) 3:
A. Philly 30 DC 29 B. Baltimore 33 Brooklyn 23

Game(s) 4:
A. Strong Island 23 Lanham 20 B. DC 21 Brooklyn 35

Game(s) 5:
A. Baltimore 30 Toronto 33 B. Philly 28 Strong Island 21

Game(s) 6:
A. DC 32 Lanham 17 B. NO GAME

Game(s) 7:
A. Toronto 33 Strong Island 17 B. Brooklyn 54 Philly 19

Game(s) 8:
A. Baltimore 26 DC 32 B. Toronto 38 Lanham 27

Saturday, August 13, 2016

Regular Season Games:

Game(s) 10:
A. Toronto 23 Philly 15

Game(s) 11:
A. Brooklyn 26 Strong Island 23

Game(s) 12:
A. Lanham 33 Baltimore 40

Game(s) 13:
A. DC 20 Toronto 27

Regular Season Standings (Final)

(1) Toronto: 6-0 ***




(2) Baltimore 3-2

***


(3) Brooklyn

3-2

***


(4) Philly

: 3-2

***


(5) DC: 2-3

***


(6) Strong Island: 1-4

***


(7) Lanham 0-5

e




*** - Advanced to playoffs
e - Eliminated from contention.

Saturday, August 13, 2016

Playoffs - 1st Round

Game 1: (3) vs (6)


A.

Brooklyn

41 Strong Island 31

Game 2: (4) vs (5)
A. Philly 34 DC 30

Playoffs - 2nd Round

Game 3: (1) vs (4)
A.

Toronto 42

Philly 38

Game 4: (3) vs (2)
A. Brooklyn 44 Baltimore 32

Championship Game
A. Brooklyn 35 Toronto 34
---
Saturday, September 3, 2016 - Chung Lao
Official RECAP to the 2016 Blessan Samuel Classic
The 2016 BSC Champions: Brooklyn!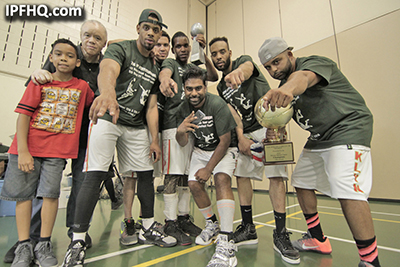 Full BSC Tournament Recap - Congrats to Brooklyn on winning their second BSC Championship!
The 14th Annual Blessan Samuel Classic is in the books and it was the year of Brooklyn!
GAME OF THE YEAR: Toronto vs Baltimore - PLAYOFFS. Baltimore had its moments in this game to win it, but in a close game, poise makes all the difference and Baltimore committed an error that allowed Toronto to even the game, and for last year's MVP, Andrew Aye to hit the game winning shot, at the buzzer. EPIC.
Shout outs: I want to take this time to shout out the following people. Without their help, this event could not have happened. Becky Kurikeshu, Justin George, Jenet Poopalan, Justus Alexander, Crystal George, Charles Thomas, Calvin Thomas, Robin Thomas, Justin Varghese, Serin Alexander, Neena Paul, Joshua Thomas, Godwin Gabriel, Glen Gabriel, Joshua Kurikeshu. To anyone I missed, many thanks for your support.
2016 BSC Tournament MVP: Jabar Williams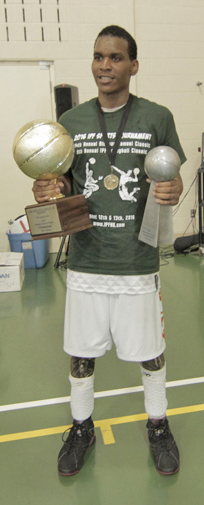 2016 BSC Joe Rosado 3-Pt Champion: Daniel Oomman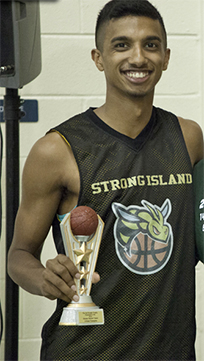 2016 BSC Fan Challenge Winner: Isaac Burnette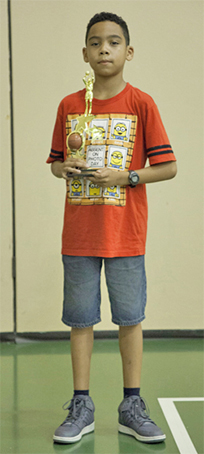 2016 BSC All-Stars:
1st Team
(PG): Jordan Burnette - Brooklyn
(SG): Jabar Williams - Brooklyn
(C): Joseph Joshua - Strong Island
(SF): Andrew Aye - Toronto
(PF): Joshua Burnette - Brooklyn

2nd Team
(PG): Steven Camille - Toronto
(SG): Teddy Owusu - Baltimore
(C): Marc Camille - Toronto
(SF): Vincent Ventolora - Brooklyn
(PF): Ricky Roy - Philly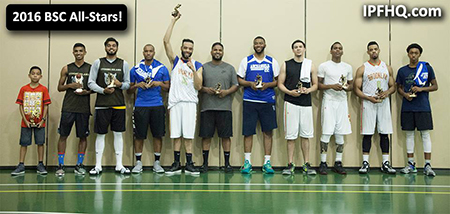 ----------------------------------------------
The following recap was written by Justin George/Chris George.
Final 2016 BSC Power Rankings
1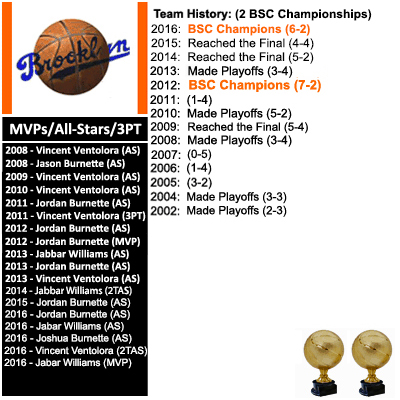 Brooklyn: Your new champs aren't new to the championship scene after winning it back in 2012 versus the TO Archangels. With only 6 players for the whole tournament, their athleticism and ability to knock down the long ball were in full display. When Brooklyn's running on all cylinders and gels as a team, there really isn't a squad that can beat them. Jabar, the leading scorer of the tournament, stepped up with his clutch shooting, ability to attack the rack, and countless defensive stops. He also won shooting guard all-star, MVP of the Finals, and the Finals trophy. Not too shabby. This team is a proven champion and a dangerous squad for any opponent for years to come.
2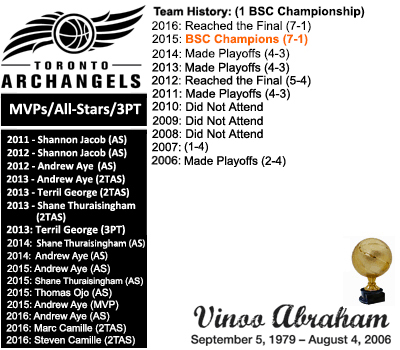 Toronto: Another solid year for the team from Up North. Since 2012, they have always been a team in contention to win it all before finally winning a chip last year. Most improved player definitely has to go to Marcus whose athleticism is a constant but this year his game went another level with an improved 3 ball. As a tenth grader, their point guard, Steven Camille, continues to makes strides with a floater added to his arsenal and an improved composure. That's right folks; he's still in high school. He'll be a great player for years to come. It's safe to say this unit will be back with a renewed motivation after suffering a tough one point loss to the eventual champs.
3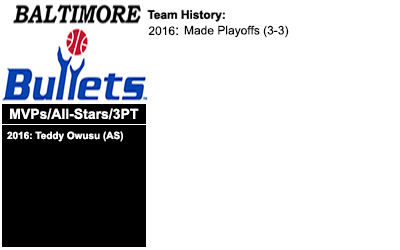 Baltimore: A new team name, a new era for the Bullets. This team is a regular to the semis and just needs that one extra gear to get to the finals. With the solid play of Teddy (second leading scorer in the tourney), Jonathan, and their big man down low, they have the right pieces to get it done. At this point, their desire to take the next step has to show on the court more than just the potential they have as a good team on paper. Now its matter of their game play. The finals is calling your name fellas, get it done!
4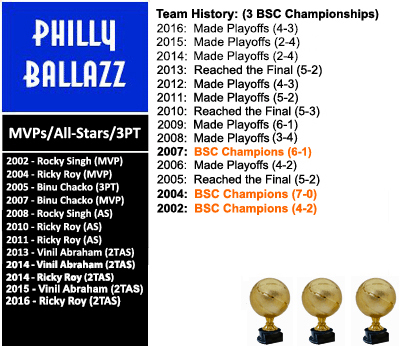 Philly: Veteran team that seemed to have the whole "City of Brotherly Love" on their bench. It was awesome to see the young talent that can be cultivated in this organization, but they just need to be given more playing time. Solid play from their vets, Ricky, a second team all-star, Rocky, and Vinil. As soon as you count them out, they just come back at you stronger and smarter. They gave the Archangels a run for their money in the semis. They'll be back next year without a doubt.
5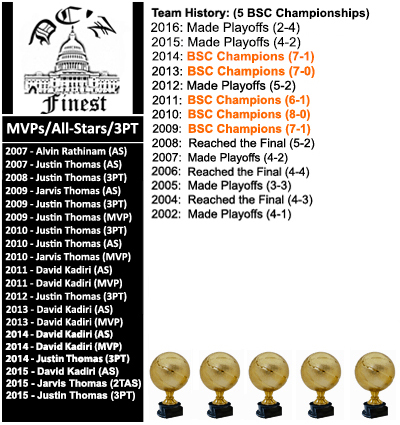 DC: DC didn't have David Kadiri or their usual killer mentality. With their five rings sitting at home, a sense of complacency was felt this year. They just didn't seem into it mentally or physically. Alvin was the tournament's third leading scorer with his timely bombs from behind the arc but not much else can be said. Hopefully, if their beast down low returns next year along with some key pieces, they'll be right back in the conversation as championship contenders.
6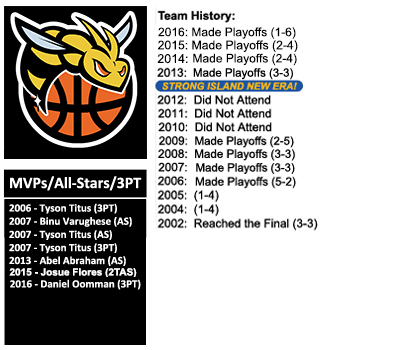 Strong Island: Their record doesn't do justice as to how well they competed in each game. Joseph Joshua, nicknamed JoJo, was a solid pickup and the eventual first team all-star for the center position. Danny Oomman brought back the hardware for SI in the 3-point competition dethroning the King, Justin Thomas. Still a young squad that has the potential to do big things in the future.
7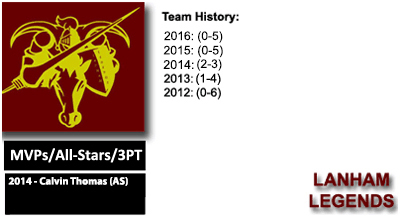 Lanham: One of my personal favorite teams that I root for every year. This is what this tourney's all about – encouraging the younger generation to take up the mantle of the legends that have gone before us in this tournament. The long awaited debut of Joshua "Joshie" Thomas was not a disappointment. After conquering the Free Throw Fan Challenge, he deemed it necessary to become one of the new faces and future stars of a youthful Legends team. Keep working at your game, guys. There's always next year!
2017 BSC First Look: Next year will be a special year as the BSC hits its 15th year of existence. We will have something special planned to commemorate this milestone. Can Brooklyn join the ranks of the 3 time champion club? Can Toronto achieve redemption? Will DC return to its championship glory? Will a sleeper team step up and surprise us all? Look forward to seeing you!!
---