Index / Tourney Recaps | Official Information | Rosters | Directions
Aug 11-12 Schedule of Events |
Rules/Regulations
---
Every team played a total of 5 regular season games at the 2017 BSC. The top 6 teams with the best records advanced to the playoffs.

Scroll down for a more complete recap. The teams shaded in orange are the winning teams.

F

riday, August 11, 2017

Regular Season Games:

Game(s) 1:


A.

Philadelphia

26

Philly

34

Game(s) 2:
A. Newark 31 Lanham 28 (OT) B. Baltimore 30 Brooklyn 28 (OT)

Game(s) 3:
A. Strong Island 18 Philadelphia 14 B. Newark 40 Baltimore 28

Game(s) 4:
A. DC 45 Brooklyn 31 B. Strong Island 35 Philly 28

Game(s) 5:
A. Lanham 27 Philly 35 B. Newark 33 Philadelphia 24

Game(s) 6:
A. Brooklyn 54 Philadelphia 28 B. DC 34 Strong Island 24

Game(s) 7:
A. Baltimore 28 Philly 23 B. Brooklyn 35 Lanham 24

Game(s) 8:
A. Newark 22 Strong Island 30 B. DC 35 Lanham 26

Game(s) 9:
A. DCZ Finest 28 Baltimore 33

Saturday, August 12, 2017

Regular Season Games:

Game(s) 10:
A. DC 27 Philly 19

Game(s) 11:
A. Brooklyn 29 Newark 28

Game(s) 12:
A. Lanham 28 Strong Island 45

Game(s) 13:
A. Philadelphia 16 Baltimore 46

Regular Season Standings (Final)

(1) DC: 4-1 ***




(2) Baltimore 4-1

***


(3) Strong Island

4-1

***


(4) Brooklyn

: 3-2

***


(5) Newark: 3-2

***


(6) Philly: 2-3

***


(7) Lanham 0-5

e




(8) Philadelphia 0-5

e




*** - Advanced to playoffs
e - Eliminated from contention.

Saturday, August 12, 2017

Playoffs - 1st Round

Game 1: (3) vs (6)


A.

Philly

29 Strong Island 21

Game 2: (4) vs (5)
A. Newark 28 Brooklyn 25

Playoffs - 2nd Round

Game 3: (1) vs (6)
A.

DC 40

Philly 23

Game 4: (2) vs (5)
A. Baltimore 47 Newark 26

Championship Game
A. Baltimore 41 DC 38
---
Thursday, August 24, 2017 - Chung Lao
Official RECAP to the MILESTONE 2017 Blessan Samuel Classic!! It was an EPIC YEAR!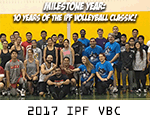 1700+ pictures have been added from the 2017 BSC/2017 IPF-VBC.

...has been updated!
The 2017 BSC Champions: Baltimore Bullets!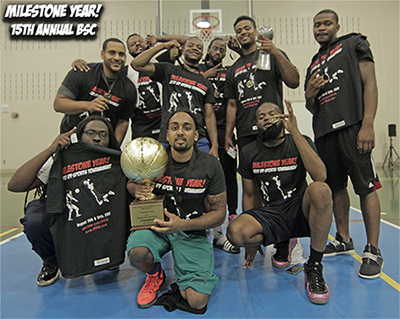 Full BSC Tournament Recap
- Congrats to
Baltimore on winning
their first BSC Championship!
The MILESTONE 15th Annual Blessan Samuel Classic is in the books and it was the year of Baltimore!
GAME OF THE YEAR: Philly Ballazz VS Strong Island Stunnaz - PLAYOFFS. Rarely has a game been this intense with the players on both sides fully focused and determined to win. You could cut the playoff intensity with a knife. A must see once it's released.
Shout outs: I want to take this time to shout out the following people. Without their help, this event could not have happened. Jenet Poopalan, Crystal George, Charles Thomas, Calvin Thomas, Joshua Thomas, Glen Gabriel, Joshua Kurikeshu & all the players who helped out. To anyone I missed, many thanks for your support.
2017 BSC Tournament MVP: Teddy Owusu

2017 BSC Joe Rosado 3-Point Champion: Benson Alexander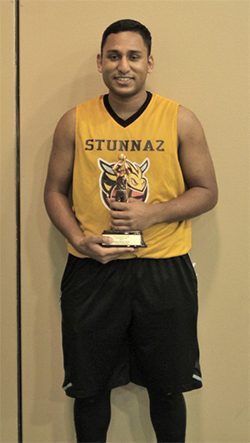 2017 BSC Fan Challenge Winner: Kainoa Winston

2017 BSC All-Stars:
1st Team
(PG): Abel Abraham - Strong Island
(SG): Jabar Williams - Brooklyn
(C): David Kadiri - DC
(SF): Jarvis Thomas - DC
(PF): Chris Adams Jr. - Baltimore

2nd Team
(PG): Teddy Owusu - Baltimore
(SG): Joby Jacob - Newark
(C): Ricky Roy - Philly
(SF): Sam Kurian - Newark
(PF): Kareem Suma - Brooklyn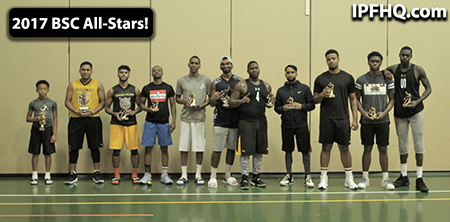 ----------------------------------------------
Final 2017 BSC Power Rankings
1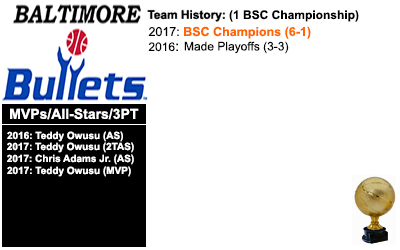 Baltimore Bullets: Baltimore showed tremendous heart and removed any doubt of always being a "contender" by finally securing the hardware. Led by MVP Teddy Owusu and an breakout all star performance by Chris Adams Jr, any and all doubts have been removed. This team looks to be contenders for years to come.
2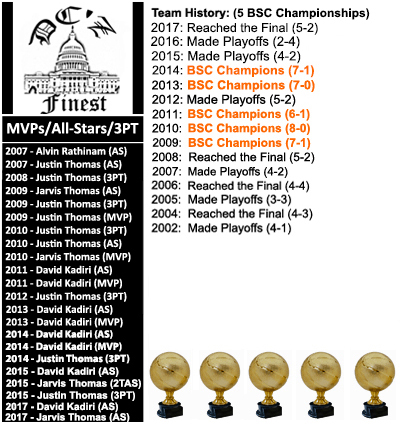 DCZ Finest: A champion's heart was almost enough. Led by the all star performances of David Kadiri and Jarvis Thomas, DC came extremely close to achieving Jordan status. But that will have to wait till next year, when they attempt to secure a BSC record 6th championship.
3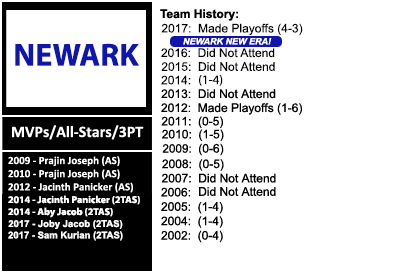 Newark: The surprise team of the 2017 BSC! To put this in perspective, prior to this year, Newark's highest win total in a single year was one. In 2017, they won four games, including their first playoff win in team history against the defending champs, Brooklyn. Quite simply an epic turnaround. Led by team captain Jacinth Panicker and all star performances by Joby Jacob and Sam Kurian, a new era has begun for the Newark squad. Looking forward to seeing what the future holds!
4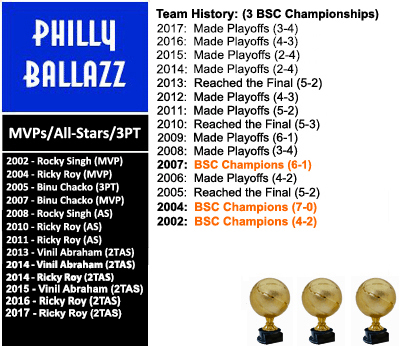 Philly Ballazz: The veteran team that never seems to go away. Philly entered Saturday of the BSC without their best player, Vinil Abraham. They still managed to make the playoffs as the sixth seed and win a playoff game after their all star Ricky Roy was out for most of the second half of that playoff game. They may be aging, but never count out the heart of a championship team.
5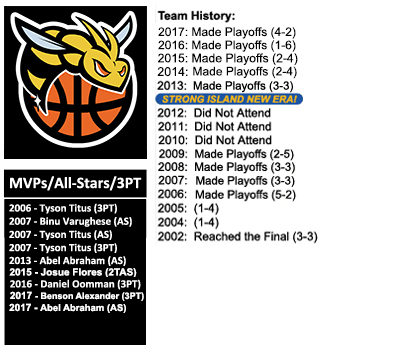 Strong Island Stunnaz:
Strong Island posted their highest win total at the BSC since 2006. Led by an all star performance from Abel Abraham, the veteran presence of Josue Flores and the sharp shooting of Bensen and Daniel Oomman. The injury to Joseph Joshua was difficultto overcome, but look for Strong Island to bounce back in a big way in 2018.
6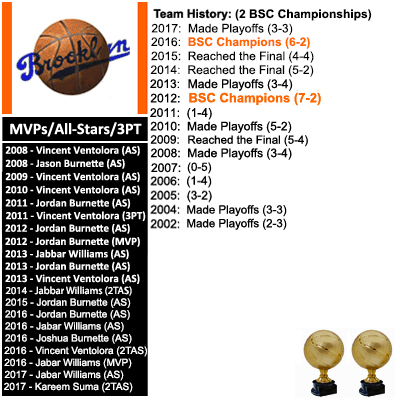 Brooklyn: The defending champions gave it their all, but were unable to repeat as champions without their all stars, Josh and Jordan Burnette. Still, there is great hope for the future. Jabar Williams was voted an all star, and Kareem Suma established himself as a rising star in the BSC with his first all star selection. Brooklyn's future is looking bright for years to come.
7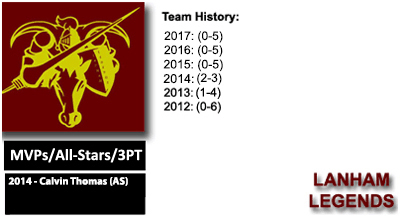 Lanham Legends:
Lanham did not win any games at the 2017 BSC, but they were in all of them. Just ask the teams they played. They showed tremendous heart and will look to take the next step next year!
8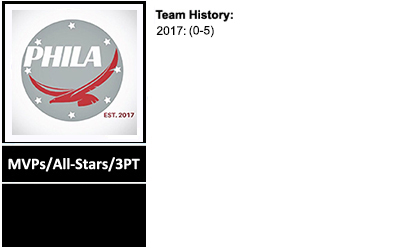 Philadelphia Flight: A valiant effort by this year's brand new team produced no wins, but it was a great learning experience for this team. There is definitely young talent on this squad, that will improve over time, and eventually they will take their rightful place amongst the playoff teams of the BSC and beyond!
2018 BSC First Look: As the BSC moves to year 16, and with four different champions in the last four years, it truly is anyone's trophy to raise! Will Baltimore be able to start a dynasty? Will a sleeper team step up and surprise us all? Will the rumors of the return of the Chicago UntouchaBULLS come true? Look forward to seeing you there!!
---