Index / Tourney Recaps | Official Information |

Rosters

| Directions
---
Every team played a total of 5 regular season games at the 2019 BSC. Strong Island was the only team that played 6 total games. The top 6 teams with the best records advanced to the playoffs.

Scroll down for a more complete recap. The teams shaded in orange are the winning teams.

F

riday, August 30, 2019

Regular Season Games:

Game(s) 1:


A.

Strong Island

49

Baltimore 45

Game(s) 2:
A. Philly 37 Chicago 11 B. Newark 39 Gburg 24

Game(s) 3:
A. Baltimore 48 DC 30 B. Newark 34 Chicago 27

Game(s) 4:
A. Strong Island 34 Gburg 25 B. Philly 40 DC 31

Game(s) 5:
A. NO GAME B. Baltimore 31 Chicago 11

Game(s) 6:
A. Newark 55 DC 45 B. Philly 37 Baltimore 25

Game(s) 7:
A. Strong Island 30 Chicago 14 B. Philly 41 Gburg 27

Game(s) 8:
A. Gburg 36 DC 25 B. Newark 40 Strong Island 33

Saturday, August 31, 2019

Regular Season Games:

Game(s) 9:


A.

Philly 32

Strong Island 25

Game(s) 10:


A.

Baltimore 37

Newark

19

Game(s) 11:
A. Gburg 26 Chicago 20

Game(s) 12:
A. DC 31 Strong Island 29

Regular Season Standings (Final)

(1) Philly Ballazz: 5-0 ***




(2) Newark 4-1

***


(3) Strong Island Stunnaz

3-3

***


(4) Baltimore Bullets

: 3-2

***


(5) Gburg Slashers: 2-3

***


(6) DCZ Finest: 1-4

***


(7) Chicago 0-5

e




*** - Advanced to playoffs
e - Eliminated from contention.

Saturday, August 31, 2019

Playoffs - 1st Round

Game 1: (3) vs (6)


A. Strong Island 41 DC 29

Game 2: (4) vs (5)
A. Baltimore 48 Gburg 33

Playoffs - 2nd Round

Game 3: (1) vs (4)


A. Baltimore 36 Philly 25 (OT)

Game 4: (2) vs (3)
A. Newark 34 Strong Island 33

Championship Game
A. Baltimore 37 Newark 36
---
Sunday, September 15, 2019 - Chung Lao
The 2019 BSC Champions: Baltimore Bullets!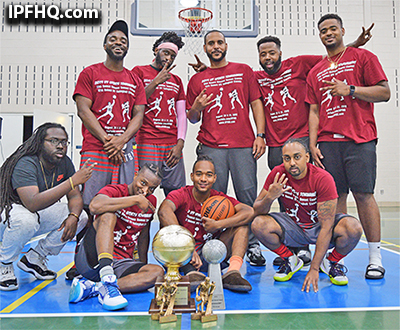 Official RECAP to the 2019 IPF Sports Tournament - 17th Annual Blessan Samuel Classic!! Baltimore Bullets!!
Pictures have been added from the 2019 BSC/2019 IPF-VBC.

...has been updated!
Full BSC Tournament Recap
- Congrats to
the Baltimore Bullets
on winning
their second BSC Championship!
GAME OF THE YEAR: Baltimore Bullets VS Newark - Championship. An absolutely EPIC title game that literally game down to the last 2 seconds to decide it. This is a game that will be remembered for all time!
Shout outs: I want to take this time to shout out the following people. Without their help, this event could not have happened. Crystal George, Charles Thomas, Calvin Thomas, Melvin George Joshua Kurikeshu, & all the players who helped out. To anyone I missed, many thanks for your support.
2019 BSC Tournament MVP: Teddy Owusu

2019 BSC Joe Rosado 3-Point Champion: Benson Alexander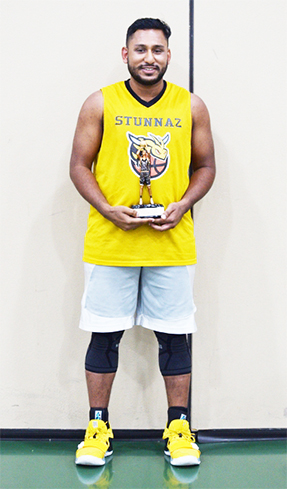 2019 BSC Fan Challenge Winner: Nate Singh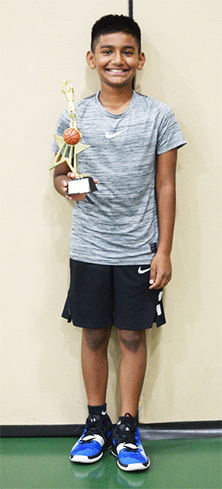 2019



1st Team


(PG): Abel Abraham -

Strong Island


(SG): Jonathan Fenwick -

Baltimore


(C): Aby Jacob -

Newark


(SF): Brandon Farmer-Younger -

Baltimore


(PF): Jabar Williams - Strong Island

2nd Team
(PG): Joshua Thomas - Gburg
(SG): Calvin Thomas - Gburg
(C): Kachi Nzeh - Philly
(SF): Jarvis Thomas - DC
(PF): Kareem Suma - DC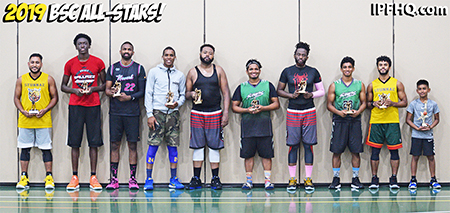 ----------------------------------------------
Final 2019 BSC Power Rankings
1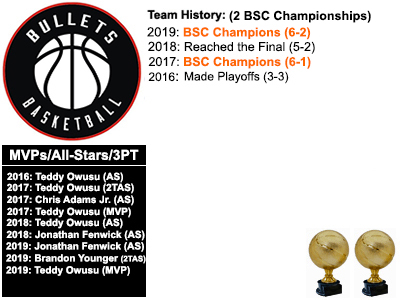 Baltimore Bullets: After losing the 2018 title game, Baltimore was looking to make 2019 a coronation, best two out of three. Baltimore won its second title in team history with the #4 seed at the 2019 BSC. Led by 2019 MVP Teddy Owusu and All-Stars Jonathan Fenwick and Brandon Farmer-Younger, this team defeated Gburg, survived against Philly in OT, and through sheer will and grit, found a way to win its second title against Newark with only seconds remaining in the game. An EPIC year for this franchise. The question must now be posed, are we looking at a DYNASTY? This is the team to beat in 2020 regardless of their seeding.
2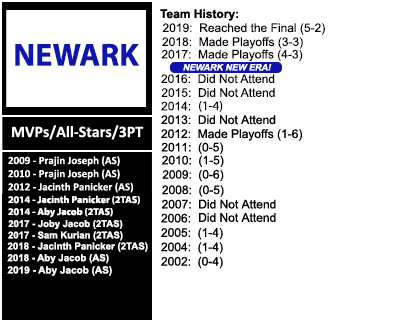 Newark:
The best year in franchise history. That's quite a statement since Newarks first year at the BSC was 2002. Newark followed up three straight playoff appearances with their highest seeding in team history, the #2 seed with a 4-1 record. This team beat Strong Island in the playoffs in an EPIC game, advancing to their first title game. They were literally two seconds away from a title of their own in the championship against Baltimore. This team has the respect and attention of every team in attendance. Look for them to return in 2020 with unfinished business on their minds!! Aby Jacob was selected for the second straight year as an all-star.
3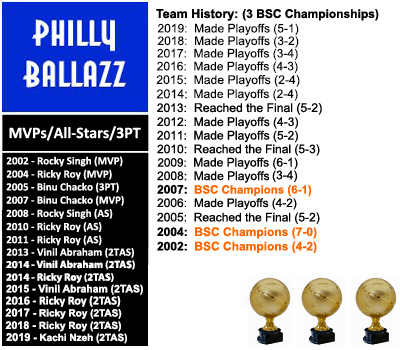 Philly Ballazz: What a year for Philly! Freshly infused with young talent from Flight, the Ballazz showed renewed energy and finished the season undefeated as the #1 seed, beating both participants in the 2018 title game. Kachi Nzeh was selected as an all-star for the first time and he seems to have a bright future ahead. This team is highly motivated to add to their three championships in 2019!
4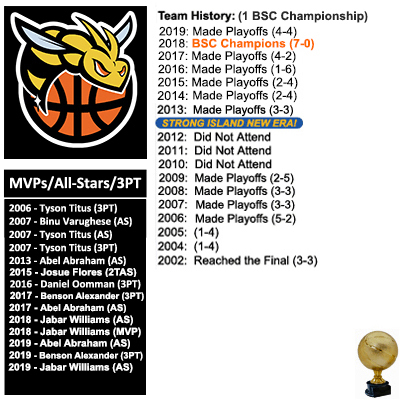 Strong Island Stunnaz: The 2018 champions opened up with a strong win against Baltimore. They were the only team that had to play 6 regular season games which may have affected their stamina as the tournament progressed. Strong Island finished as the #4 seed, defeated DC in the playoffs and were eliminated in a close game against Newark. Strong Island had Abel Abraham selected as an all-star and Benson Alexander won the three-point contest. Look for this team that now has championship mettle to return to form in 2020.
5/5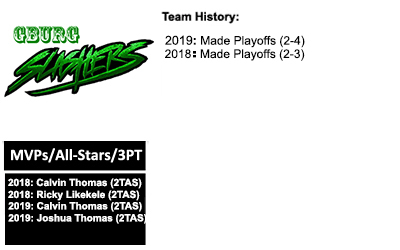 Gburg Slashers: Gburg is rising. For the second straight year, they made the playoffs which is a first in franchise history. They also had two players selected as all-stars, Calvin Thomas & Joshua Thomas. Gburg defeated DC for the first time in team history. Look for this team to build off of two straight solid years.
6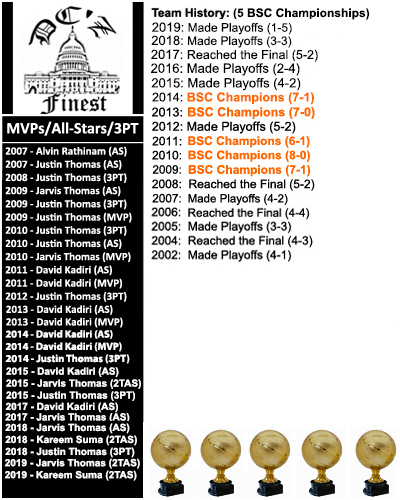 DCZ Finest: DC had their worst year in franchise history in 2019. The lack of players and depth ultimately cost them. This team played with 3-4 players in many of the games on Friday and still made them competitive. A testament to their championship pedigree. Even with the tough year, they still had two players selected as all-stars, Jarvis Thomas & Kareem Suma. Look for them to return to form in 2020.
77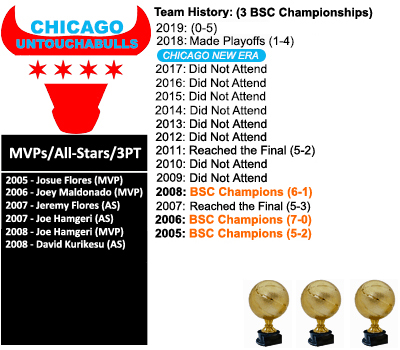 Chicago UntouchaBULLS:
Chicago gave several teams a run for their money, but ultimately couldn't close out 2019 with victories. Look for them to return in 2020 with reinforcements!
2020 BSC First Look: As the BSC moves to our 18th year, we remain in our most competitive ERA ever. Baltimore was tested by multiple teams in route to their championship. Five different teams have won the title in the last 6 years. That is amazing!! Look forward to seeing you there and hopefully the return of Brooklyn, Texas and Toronto!!
---