Index / Tourney Recaps | Official Information | Rosters | Directions | Contact
July 26th Schedule of Events | Rules/Regulations | Forms
---
Every team played a total of 5 regular season games at the 2008 IPF-VBC. The 4 teams with the best records advanced to the playoffs.

Scroll down for a more complete recap. The teams shaded in orange are the winning teams.

Saturday, July 26, 2008

Regular Season Games:

Game(s) 1:


A. All 4 One 53 MD Storm 36 B. MOCO 32

North of 42

46

Game(s) 2:
A. NY Shadows 40 iSpike 32 B. MD Storm 58 MOCO 35

Game(s) 3:
A. North of 42 29 NY Shadows 43 B. All 4 One 48 iSpike 36

Game(s) 4:
A. MD Storm 32 North of 42 40 B. MOCO 27 All 4 One 50

Game(s) 5:
A. MOCO 37 iSpike 40 B. NY Shadows 46 MD Storm 34

Game(s) 6:
A. All 4 One 33 NY Shadows 40 B. North of 42 31 iSpike 42

Game(s) 7:
A. MD Storm 46 iSpike 31 B. MOCO 35 NY Shadows 47

Game(s) 8:
A. All 4 One 42 North of 42 25 B. NO GAME

Regular Season Standings (Final)

(1) NY Shadows: 5-0 ***


(2) ALL 4 One: 4-1 ***
(3) MD Storm: 2-3 ***
(4) iSpike: 2-3 ***


(5) North of 42

: 2-3 e
(6) MOCOYOGRO Panthers: 0-5 e

*** - Advanced to playoffs
e - Eliminated from contention.

Playoffs - 1st Round

Game 1: (1) vs (4)

Game 2: (2) vs (3)
A. NY Shadows 42 iSpike 26 B. All 4 One 54 MD Storm 49

Championship Game

A.

All 4 One 56 NY Shadows 46

2008 IPF-VBC Champions: ALL 4 One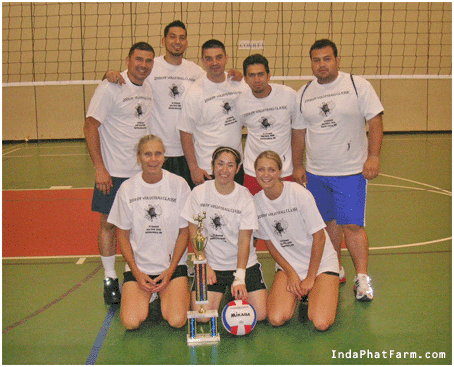 ---
Tuesday, July 29, 2008 - Chung Lao: REVISED 11:07 AM
Congrats to The 2008 IPF VBC Champions

All 4 One!!! POWER RANKINGS RIGHT HERE...Pics on the Way...
A.
I want to begin this update by congratulating All 4 One on getting the job done, and winning our first ever volleyball classic! I'll save my game thoughts for my power rankings below. We have lots of pictures on the way, so keep it locked in for those.
B. The 1st year of an event like this is always the hardest. So I'd like to thank Becky Kurikeshu & Jenet Poopalan for their help with this year's event.
I'd also like the thank Reny Simon, Andrew Samkutty, Teena John, Sony Thomas, Jaison John, Susan Kurikeshu as well as the members of the various teams in attendance that helped us with score-keeping/line judging. If I missed anyone, many thanks.
---------------------------------------------------------------------
2008 POWER RANKINGS
All 4 One: Shout out to team captain Angela Lazarus. All 4 One was pretty talented all around. They had good spikers, setters, and blockers. They also had the assistance of a junior Olympian in Jose! Still it wasn't a cakewalk for them as a few teams gave them a run. Look forward to the return of the defending champs in 2009!
1

NY Shadows

: Shout out to team captain Binu Varughese. NY really brought it to the IPF-VBC. They went 5-0 in the regular season, and were the only team to beat the eventual champions, All 4 One. Very talented all around team. What was up with Brary though?

2

Maryland Storm: Shout out to team captains Dilshan Rajagopal and some nut by the name of Chris George. MD Storm had a decent tourney, making the playoffs and giving the eventual champion All 4 One a run for their money in the playoffs.
3

iSpike

: Shout out to team captain Becky Kurikeshu. iSpike had the most energy of any team there, with all the chants, "BOOYAKASHAAA" Haha, what? They also had the best fan base come out. Look forward to their return in 2009.

4

North of 42

: Shout out to team captain Jenet Poopalan. This team had the longest journey and gave the eventual champion All 4 One a run for their money. Look forward to seeing you guys in the future!

5

MOCOYOGRO PANTHERS

: Shout out to team captain Tim Carkhuff for bringing this squad out. Come out and do some damage in 2009!

6

We look forward to seeing all of you next year!
---
Back Home