Index | Friend's Entries
| Reflection in Pictures
---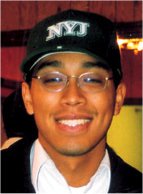 Praise the Lord
As Phillip's parents, we want to thank all of you for your prayers they have been answered. Through them the Lord has strengthen and comforted us; time also has brought so much healing to our hearts. At the same time we want to thank you for all the love you showed to Phillip and for welcoming him also as part of your own family too.
We thank God for the life of Phillip. It was a great blessing and a privilege to have him as a son. Glory to God for helping Phillip to be a faithful servant of God until the end. May God help all us to be faithful too until the end. God bless you.

- Brother Phillip and Sister Denia Cabillo
(if you wish you write to us, our e-mail address is deecab57@aol.com.)
---
This section of IndaPhatFarm.com is dedicated to the life of a servant of God who was a tremendous blessing to all that knew him.

The humility and grace that was shown forth in his life will never be forgotten.

If you have any content pertaining to the life of brother Phillip Cabillo Jr, that you would like to add to this section, please contact chunglao@hotmail.com. Thank you.

---
Back to the Philip Cabillo Index