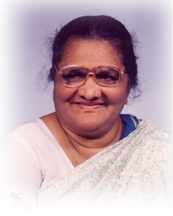 Thankamma Georgekutty was born in Kundara, Kerala state, India, to PY & Kunjamma Chacko on November 15, 1934. She also had 3 brothers who passed away (PC John, PC Kunjukutty, PC Varghese), and one brother who currently lives in Canada (PC George). She grew up in the Eastern Orthodox faith, where her mother was first to convert to the Pentecostal faith. The bond she had with her mother was strong. She learned the sacrificial and faithful aspects of this new faith from her, but decided she would have no part in it. With zeal, she disliked her mother removing her jewelry and wearing white sarees with this Pentecostal group. In her teenage years she sided with her father, giving many hard times to her mother and towards her faith. In due time, God worked in her life through fellowship with Godís saints and as the Holy Spirit led her, she accepted Christ in her life in 1949.
She obeyed God in baptism the next year. In 1952, she married Mathan Georgekutty and started her new life with the saints at the Ceylon Pentecostal Mission fellowship in Kottarakara, Kerala, India. The Lord blessed them with three sons (Kunjumone, Babu, Raju) and a daughter (Jessy). Her life was fully involved in many church related activities. She started meeting with many of the elderly and young mothers at her home for fasting and prayer every week. She would lead the singing of Malayalam songs, and was committed to opening her doors for all spiritual gatherings. The Lord gave her the gift of prophecy and allowed her to seek the Lord on behalf of the sick and the afflicted. She kept in close touch with all the sisters of the church, and made it a point to attend every meeting of the week.
She came to the United States in 1981, and started attending the New Testament Church in Washington. Her husband also joined her later on, and together they devoted their lives in prayer for their own children, and other families in the church. They both loved assembling with the saints of God. Her husband went to be with the Lord in 1998, and she continued her journey of prayer, songs, and fellowship with the brethren in the love of the Lord. She complained about nothing, but praised God for everything. She would always wake up at 4-5am and devoted herself to singing and praising God wherever she was. She moved around and stayed with all four of her children, and sought the Lord continually.
Everyone recognized her by the perennial smile she had whenever she met anyone. Godís grace was abundant in her life, and she continued to live in the will of God. Praying for the servants of God around the world was a commitment in her daily prayer. On Sunday mornings, she would attend morning prayers and was delighted in singing Malayalam songs and getting filled in the spirit. She also remembered all the families of her childrenís friends, and prayed for them.
The Lord blessed her with 10 grandchildren. She loved them without reservation, and made it a point to talk to them and encourage them. All of them have known the sweet, gentle and caring spirit of their grandmother who prayed for each one of them by name in her daily devotion, and had always sought the Lord on their behalf.
During her final weeks, she encouraged her children that God would reward those who diligently seek him. Three weeks ago, she went to the Gaithersburg church and testified that her prayers were answered for the healing of her fractured hand, when she sought the Lord with all her heart. She raised her hand and praised God for the healing. All those who came in touch with her found Godís love in her words and actions. She continually praised God. The Lord took her home on July 5th, 2009 at 11:00 am. We praise God for her life that will inspire love, faith, hope, and smiles in all our lives.
---------------------------------------------------------------------------