Index / Tourney Recaps | Official Information |

Rosters

| Directions


July. 27-28 Schedule of Events

|

Rules/Regulations
---
Every team played a total of 6 regular season games at the 2012 BSC. The 6 teams with the best records advanced to the playoffs.

Scroll down for a more complete recap. The teams shaded in orange are the winning teams. "Thanks". "You're Welcome".

F

riday, July 27, 2012

Regular Season Games:

Game(s) 1:


A. Newark 17 Toronto 33

Game(s) 2:
A. Lanham 19 DC 38

Game(s) 3:
A. Brooklyn 33 Toronto 29 B. Philly 36 Gburg 37

Game(s) 4:
A. Toronto 25 Lanham 11 B. Philly 34 Newark 18

Game(s) 5:
A. Newark 26 DC 48 B. Gburg 38 Brooklyn 35

Game(s) 6:
A. Philly 28 Lanham 17 B. DC 37 Toronto 25

Game(s) 7:
A. Gburg 36 Newark 21 B. Brooklyn 39 Philly 33

Game(s) 8:
A. Brooklyn 38 Lanham 31 B. Toronto 33 Gburg 23

Game(s) 9:
A. Philly 37 DC 29 B. Newark 34 Lanham 25

Saturday, July 28, 2012

Regular Season Games:

Game(s) 10:
A. DC 38 Brooklyn 19

Game(s) 11:
A. Gburg 23 Lanham 22

Game(s) 12:
A. Philly 27 Toronto 20

Game(s) 13:
A. Brooklyn 33 Newark 31

Game(s) 14:
A. DC 39 Gburg 27

Regular Season Standings (Final)

(1) DC: 5-1 ***




(2) Gburg: 4-2

***


(3)

Brooklyn

4-2

***


(4) Philly

: 4-2

***


(5) Toronto: 3-3

***
(6) Newark 1-5 ***


(7)

Lanham

0-6

e




*** - Advanced to playoffs
e - Eliminated from contention.

Saturday, July 28, 2012

Playoffs - 1st Round

Game 1: (4) vs (5)


A. Toronto 41 Philly 25

Game 1: (3) vs (6)
A. Brooklyn 45 Newark 27

Playoffs - 2nd Round

Game 3: (1) vs (5)
A.

DC 31

Toronto 39

Game 4: (2) vs (3)
A. Gburg 26 Brooklyn 27

Championship Game
A. Brooklyn 38 Toronto 33
---
Thursday, August 2, 2012 - Chung Lao
Official RECAP to the 2012 Blessan Samuel Classic!
The 2012 BSC Champions: Brooklyn!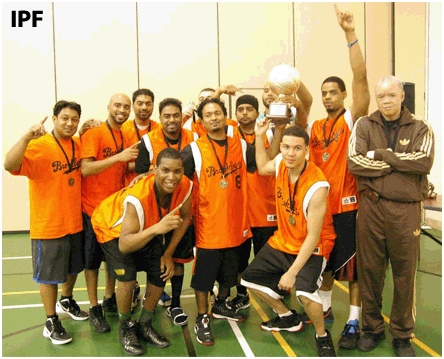 ---
Full BSC Tournament Recap
- Congrats to
BROOKLYN who after 10 Years earned a Championship!!
A
.
The 10th Annual Blessan Samuel Classic is in the books! One word: WOW. For the first time in the tournament's history, a team not named Chicago/DC/Philly won the title! Their name is Brooklyn!! After 10 years of trying, they finally pulled it out!
GAME OF THE YEAR:
There are several candidates this year, but I have to say Toronto beating DC, 39-31, ranks amongst the most impressive and shocking victories in the 10 year history of the tournament. Well done Toronto.
Shout outs:
I want to take this time to shout out the following people. Without their help, this event could not have happened. Jenet Poopalan, Crystal George, Charles Thomas, Calvin Thomas, Binu Varughese, Vinod Varghese, Ajith Kumar, Michael George, Melvin George, Jason Burnett. To anyone I missed, many thanks for you're support.
2012 BSC Tournament MVP: Jordan Burnett

2012 BSC Joe Rosado 3-Pt Champion: Justin Thomas

2012 BSC Fan Challenge Winner: Joshua Thomas

2012 BSC All-Stars: Andrew Ayes (Toronto), Jordan Burnett (Brooklyn), Shannon Jacob (Toronto), Jacinth Panicker (Newark), Teddy Owusu - not pictured (Gburg)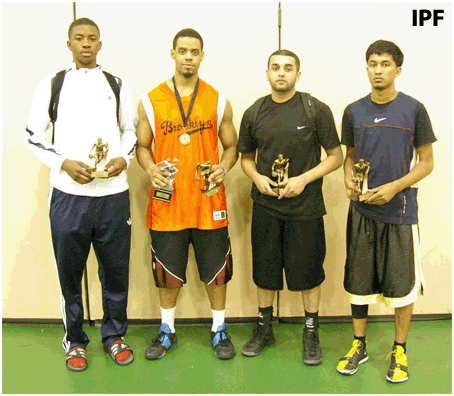 ----------------------------------------------------------
Final 2012 BSC Power Rankings
1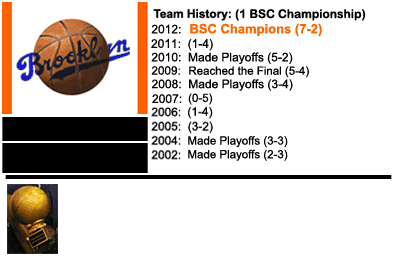 Brooklyn:
10 Years of dedication, all credited to Team Captain Roy Geevarghese, without whom this would not have happened. Major credit goes to MVP Jordan Burnett who elevated his game to the next level. Strong contributions from Vincent Ventolora and Jabar Williams. Is this a dynasty in the making?
All Star:
Jordan Burnett
BSC MVP:
Jordan Burnett
2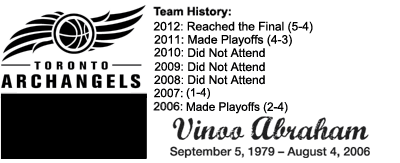 Toronto:
WOW. Most pundits figured it would be DC on cruise control headed toward their fourth championship in a row. Toronto had other plans. In one of the most shocking and impressive back to back wins in recent BSC history, Toronto slayed two 3-time champions in the playoffs back to back, Philly and DC. Big contributions from All Stars Andrew Ayes and Shannon Jacob, along with Shane Thuraisingham, Justin George & Terrill George providing major support. This team announced themselves to the BSC in 2012, "We Have Arrived."
All Star: Andrew Ayes
All Star: Shannon Jacob
3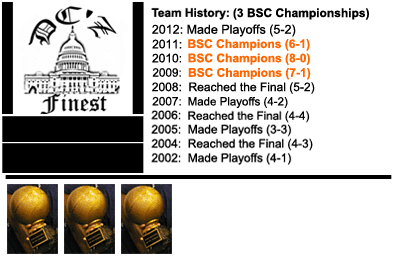 DC:

DC was the #1 seed in the BSC in 2012, and managed to do so without their MVP from last year, David Kadiri, a feat to itself. Strong contributions from Jarvis Thomas, Aba Udofa, Sam John, Justin Thomas, Alvin Rathinam, but the team, to the shock of the home crowd watching, could not match Toronto's presence down low. One thing is certain, DC will be back with something to prove in 2013.

4

Gburg:

Gburg was one basket away from playing in the championship game this year, enough said.

This is the first time in BSC History that Gburg has been ranked right behind DC. Gburg, however, refuses to be defined by that moniker. Gburg earned its first #2 seed in franchise history, earning a bye in the playoffs, AND earned its first playoff win in franchise history, a major achievement for a team in its 7th year of existence.. The emergence of Teddy Owusu as a threat, made him just about un-guardable for every team, earning him All Star honors. Strong contributions from Ike Nwoko, Jeevan Mammen, and others, but something tells me this team is just getting started.....2013 looms.

All Star: Teddy Owusu

5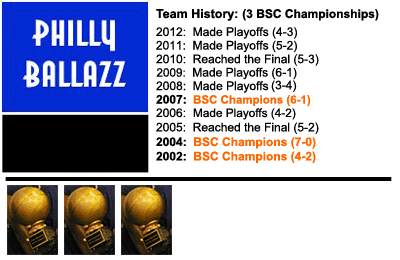 Philly:
This team is always in the mix. Strong veteran play from team captain Rocky Singh, and veterans, Rahir Patel & Ricky Roy, along with solid contributions from the young gun, Jithin. They need to get back to running up and down the court, which led them to 3 championships in the BSC's early years.
6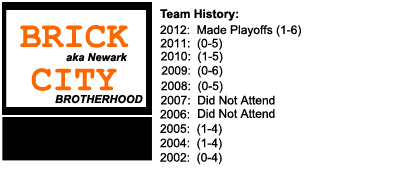 Newark:

Newark battled in their games and defeated Lanham to earn their first playoff berth in team history. Strong performances from All Star Jacinth Panicker. Sam Kurian also had a strong showing. With renewed confidence I'm expecting big things from this team in 2013.

All Star: Jacinth Panicker

7

Lanham:

To the outside observer, an 0-6 record is the definition of a poor showing. But I beg to differ. This team was rarely blown out, and were in almost all the games they played. Down 10-0 to Brooklyn, they rallied to take the lead against the eventual champions before finally falling to the champs in that game. Strong showing by David Singh & Richard Kirby. The Legends look to live up to their name in 2013!

2013 BSC - First look:

As the BSC enters decade number two, it's shaping up to be the most competitive tournament yet! The young and hungry teams are vying for a championship of their own. How will Brooklyn adapt to being the hunted and not the hunter? Chicago? Texas? Strong Island? The gauntlet has been thrown down. Looking forward to seeing you there!
---
Tourney Index | Back Home