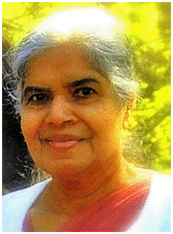 ARTHUNGAL, Mrs. Achiamma (Lilly) Age 69, beloved wife and mother, died on Thursday March 13, 2008 at her home in Fairborn, Ohio, surrounded by her family.
Mrs. Arthungal, eldest daughter of Geevarghese and Sosamma Kurikeshu (Puthenpurayil House) was born on April 23, 1938 in Kerala, India.
She is survived by her husband Joseph Arthungal, their three children and spouses: daughter, Betty and Joju Abraham of Fairborn; son, Benjamin and Sonia Arthungal of Fairborn; daughter, Rebecca and Simu Thomas of Somerset, New Jersey; and grandchildren, Anna and Lilia Thomas, and Andrew Arthungal. A devout Christian, Mrs. Arthungal served along with her husband in the Fairborn Christian Fellowship for over 30 years. A gentle and loving wife and mother and gifted homemaker, she loved spending time with her three grandchildren. Mrs. Arthungal and her husband moved to the United States in 1969.
Before moving to Fairborn in 1973, she worked as a registered nurse at the University of Michigan Hospital Burn Unit. Prior to that, she worked as a nurse in New Delhi (India) and in Saudi Arabia. She is preceded in death by her parents and one sister.
---------------------------------------------------------------------------