Index | Official Information | Rosters | Directions | Contact
| July 24th Schedule of Events | Rules/Regulations |
---
All teams played each other at the 2004 BSC. The 4 teams with the best records advanced to the playoffs.

Regular Season Games

Game(s) 1:
A.

Philly 13 Yonkers 9 B. DCZ Finest 12 Strong Island 8

Game(s) 2:
A. Newark 3

Brooklyn 13 B. Yonkers 14 Strong Island 13

Game(s) 3:
A.

DCZ Finest 14 Newark 11 B. Philly 19 Brooklyn 7

Game(s) 4:
A.

DCZ Finest 12 Yonkers 9 B. Philly 19 Strong Island 14

Game(s) 5:
A.

Newark 18 Strong Island 14 B. Brooklyn 11 Yonkers 9

Game(s) 6:
A. DCZ Finest 8

Philly 17 B. No Game

Game(s) 7:
A. Newark 11

Yonkers 12 B. Brooklyn 7 DC Finest 6

Game(s) 8:
A. Brooklyn 9

Strong Island 11 B. Newark 5 Philly 16

Regular Season Standings (Final)

Philly: 5-0

***
Brooklyn: 3-2 ***
DCZ Finest: 3-2 ***
Yonkers: 2-3 ***
Newark: 1-4
Strong Island: 1-4

*** - Advanced to playoffs

Playoffs - 1st Round

Game(s) 1:
A.

Philly 13 Yonkers 6

Game(s) 2:
A.

DCZ Finest 12 Brooklyn 11

Championship Game

A. Philly 22 DCZ Finest 11

Shout Outs: Before I get into my recap, I want to take this time to thank several people for their help with the organization and implementation of the 2004 Blessan Samuel Classic. First and foremost, I want to thank God that everyone made it there safely and back again. The fact this tourney was held in honor of Blessan Samuel and Bro. Phillip Cabillo Jr. is proof enough that we can't take a single day for granted.

Next up, I want to shout out IPF webmasters, Vinod Varghese and Binu Varughese. We spent countless hours over the phone and on paper working out the details for this thing. Without these two people, this thing would not have gone down.

I would also like to thank Crystal George, Sheebu Thomas, Susan Kurikeshu, Blossom Moses, and my Dad, for their tireless effort in Picture Taking/Editing. In addition, I want to thank Sam John, Eber Rosario, Vinod Varghese, Ben Harris, John Phillip, Juby Varghese, Justin Thomas and Jessu Abraham for running the scoreboards and refereeing the games. On the local level (DC), I want to thank Soumini John for keeping the DC sidelines stocked with water/power-ups. Also, I want to shout out Phillip Mark for making repeated trips to the mall to ensure that everyone on our roster had a DCZ Fitness T-shirt.

Last, but not least, I want to thank all of the players and spectators (loyal DC fans) that made the effort and came out, as well as anyone I missed. You are appreciated. Our Tournaments are not without glitches, but they are improving every year. Let's keep this thing rolling......

C. Philly Ballazz: They have made a statement. Philly has served notice that any and all attempts at a title will have to go through the home of the 76ers. Philly went undefeated through the regular and post-seasons by blowing out almost everyone they played. Don't get be wrong, Philly is beatable, but only through practicing hard and consistently. That is the secret to their success.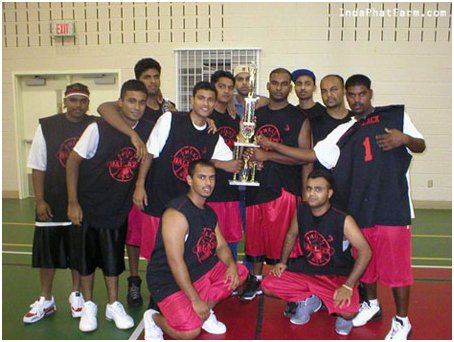 ---
Tourney Index | Back Home