Index / Tourney Recaps | Official Information | Rosters | Directions | Contact
August 22nd Schedule of Events | Rules/Regulations | Forms
---
Every team played a total of 5 regular season games at the 2009 IPF-VBC. The 4 teams with the best records advanced to the playoffs.

Scroll down for a more complete recap. The teams shaded in orange are the winning teams.

Saturday, August 22, 2009

Regular Season Games:

Game(s) 1:


A. MOCO 34 MD Storm 39 B. NY Shadows 33

All 4 One

34

C. iSpike 37 North of 42 26

Game(s) 2:
A. MOCO 50 North of 42 31 B. NY Shadows 32 MD Storm 29

C. iSpike 19 All 4 One 60

Game(s) 3:
A. North of 42 31 NY Shadows 38 B. MD Storm 30 iSpike 26

C. All 4 One 41 MOCO 26

Game(s) 4:
A. MD Storm 29 All 4 One 32 B. MOCO 52 iSpike 22

Game(s) 5:
A. MOCO 29 NY Shadows 35 B. North of 42 24 MD Storm 45

Game(s) 6:
A. All 4 One 35 North of 42 24 B. iSpike 28 NY Shadows 45

Regular Season Standings (Final)

(1) ALL 4 One: 5-0 ***




(2) NY Shadows

: 4-1
(3) MD Storm: 3-2 ***
(4) MOCOYOGRO Panthers: 2-4 ***
(5) iSpike: 1-4 e


(6) North of 42

: 0-5 e

*** - Advanced to playoffs
e - Eliminated from contention.

Playoffs - 1st Round

Game 1: (1) vs (4)

Game 2: (2) vs (3)
A. All 4 One 50 MOCO 25 B. NY Shadows 34 MD Storm 35 Championship Game
A. All 4 One 50 MD Storm 40

2009 IPF-VBC Champions: ALL 4 One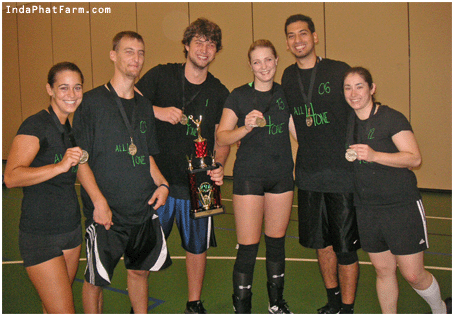 ---
Tuesday, August 25, 2009 - Chung Lao
Congrats to The 2009 & now 2-time IPF-VBC Champs

All 4 One!!! POWER RANKINGS RIGHT HERE...Pics on the Way...
A. Our IPF Sports Weekend recap begins with the IPF-VBC champs, All 4 One. Shout out to team captain Angela Lazarus for putting together a team that captured the title a second year in a row. To be sure, this team was tested, eeking out some close wins, but in they end, they showed true championship poise.
I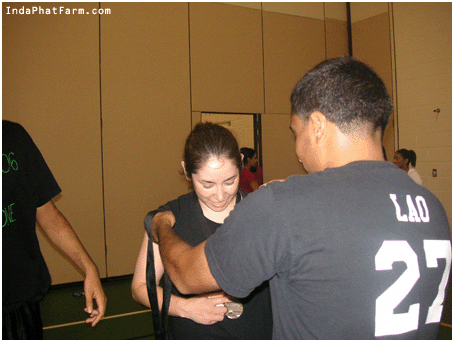 B. I'd like to thank Becky Kurikeshu & Jenet Poopalan for their help with this year's event. As always, we hope to make next year's event better than this one!
I'd also like the thank Charles Thomas, Stanley John, Vinod Varghese, Lindsey Varghese, Bensen Oomman, Shannon Jacob, as well as the members of the various teams in attendance that helped us with score-keeping/line judging. If I missed anyone, many thanks.
---------------------------------------------------------------------
2009 POWER RANKINGS
All 4 One: Shout out to team captain Angela Lazarus. All 4 One cemented their status as the VBC team to beat by capturing their 2nd straight title. Jose Morel proved again that he's the key to victory, but they got key upgrades all along the court. Well done.
1

Maryland Storm: Shout out to team captains Dilshan Rajagopal. This team wasn't the surprise team of the year, as they were a good team in 2008, but they made it to the final with only 5 usable players on court. The addition of Christina Devairakkam really propelled this team to the next level.
2

NY Shadows

: Shout out to team captains Sijin Samuel for putting this team together. NY went 4-1 in the regular season showcasing the strong play of Binu Thomas & Leena & Lilly Easaw. They had a great run and will come back with renewed fire in 2010!

3

MOCOYOGRO Panthers: Shout out to team captain Tim Carkhuff. This was without question the surprise team of the tournament. After a poor showing in 2008, they responded big time in 2009, holding their own against the elite teams of this tournament. Very well done, and we look forward to greater things in 2010.
4

iSpike

: Shout out to team captain Becky Kurikeshu. Well, iSpike had a rough go of it in 2009, they were in some games, but others were tough. Still, volleyball is this team's call sign, and I expect much bigger things from the BOOYAKKASHAA family next year.

5

North of 42: Shout out to team captain Jenet Poopalan for bringing this team down. They have to travel the farthest of any team, so their to be commended for the effort. I think with more practice time, this team will make the playoffs next year.
6

Appreciate everyone coming out to support us, especially the fans.
We look forward to seeing all of you next year!
---
Back Home