Index
| Funeral Program | Friend's Entries | Reflection in Pictures
| The Blessan Samuel Memorial Fund
|
---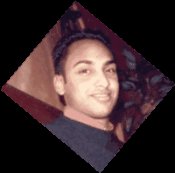 This section of IndaPhatFarm.com is dedicated to the life of a person with whom it was an honor to know, Blessan Samuel. This section has been made with the complete approval and support of the Samuel family.
I want to thank Rajee Nell and Stan T for their help in creating this tribute section for Blessan. I couldn't have made this without you guys.
---
The following is my personal account of the funeral and its impact on my life:

Blessan

really made a difference in the 24 years he had here, and by the time you are done reading this funeral recap, you will realize how rare and special he was.  No matter what way you look at him, Blessan was, and will always be, a winner. 

The Funeral itself was amazing.  It was very well organized.  There was a slide show of Blessan's life, and also an audio excerpt was played from Blessan's last testimony, in January 03.  Blessan's father, mother, and Benson all testified.

Several of the youth from Houston gave testimonies (and also sang a couple of songs).  Several of Blessan's friends gave heart-felt testimonies.  Also, one of Blessan's college professors testified, and said that in his 30 yrs of teaching at the Univ. of Houston, he had never met anyone that impacted his life more than Blessan Samuel, and that sometimes when he was having a bad day, when he would see Blessan smile at him, he would be fine. 

I've also been told that the Blessan Samuel scholarship has been set up at the Univ. of Houston in his honor. Amazing.

You know what all this means?  It means that Blessan was not a hypocrite.  He lived the life, ALL THE TIME, and proved that we could do it too.  He was no Sunday Christian. 

It was God's plan to take him when he did.  Blessan (or any of us) could of had cancer later on in life, or any number of bad things could of happened.  But God decided to take him when he was ripe. 

If you really think about it, we're not alive for that long.  Make the most of your time WHILE YOUR HERE.  I think Blessan Samuel would have agreed.

---
Back to the Blessan Samuel Index